Almost every major music single release gets the remix treatment. In Part 3 of this MPV Premium "How to Remix" series, Mo Volans takes you through adding your own instrumentation to the mix.
In this series of tutorials we are going to be taking you through the step by step process of creating a real remix. I have been remixing for many years and I'll try to share with you some of the techniques I have used in my studio work.

You can find the previous articles in this series here:
This installment will show you how the new instrumentation and drum parts were added to the mix. This is an extremely important part of the process as this is when the mix truly becomes your own.
Step 1 - Think about your Direction
At this point in your mix it's often a good idea to sit back and think about the style you want to work in. This choice will have a pretty drastic effect on the type of sounds you use, the tempo you choose and also the way the arrangement takes shape.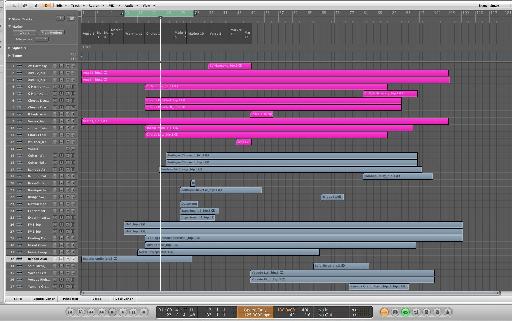 Where we were at the end of the last stage.
I decided I would go with an atmospheric house remix here as I felt this style would complement the vocal performance from the original track. The tempo was already set to a slower 125 bpm in the last part of this series and we are ready to start adding new drums and instrumentation to the mix.
It's worth noting that at this stage'"apart from a few minor arrangement alterations that we'll look at in the next installment in this series'"I've pretty much gone with the original structure. This means I was able to write my new instrumentation in realtime.
If you prefer to completely alter the arrangement for your remix you may want to loop the key parts of the track and work within that loop. Your new instrumentation and looped parts can then be arranged. Whichever route you choose to take writing your new parts would involve a similar process to the one outlined here.
Step 2 - The Sound Of Drums
Your approach may differ but I always start with my rhythm track: Drums and Bass. I find this gives any project its backbone and creates a clear structure to work within. Now I would usually spend a pretty substantial amount of time programming my own drum parts from scratch but for the purposes of speed and clarity I have used a combination of pre-programmed library loops.
I have used one simple 4/4 house loop as the main backdrop here and a busier percussion-based loop for the chorus section. For more information about programming your own drum beats from scratch I would suggest taking a look at these tutorials.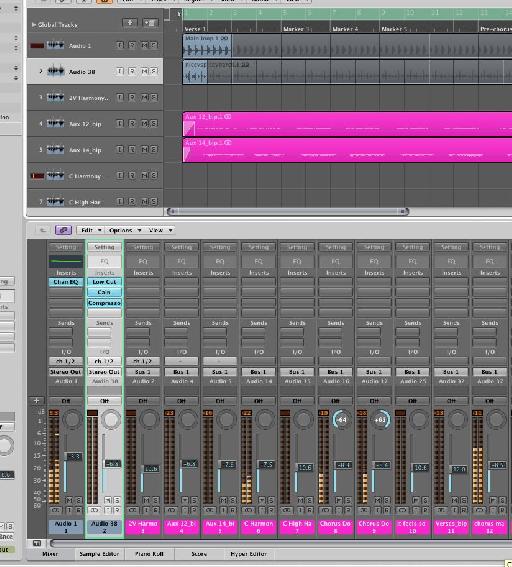 Drum loops are added to the arrangement.
By inserting even a simple beat like this we suddenly start to see our mix take shape as the style changes. With the beat present it also outlines any changes that need to be made as far the arrangement goes and we'll take a look at that next.
The new beat adds a fresh perspective:
Step 3 - A Few Arrangement Changes
Although I said earlier that I was sticking to the original arrangement for this remix I did decide at this point that the bridges (the shorter sections between the chorus and verse) did confuse my arrangement somewhat.
To remedy this issue I simply selected the parts I wanted to remove and used Edit > Cut/Insert time > Snip: Cut Section Between Locators to remove the whole area. This function is really neat but I did find there were a few little loose ends to trim off some audio regions, so watch out for this if you use the same technique.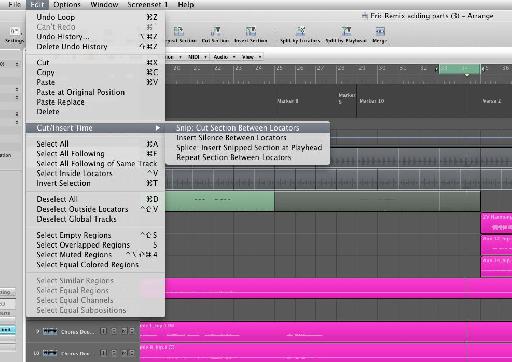 Small sections are removed to modify the arrangement.
With these changes in place I felt the arrangement was much snappier and flowed well. I was now ready to start adding some musical parts to the track.
Step 4 - Getting Your Bass On
Luckily for me there were quite a few musical elements in the remix pack that I wanted to use. Plenty of strings, guitars and synths that were already well placed in the arrangement made my job nice and easy but it's not always this easy.
If you find yourself having to create quite a few musical parts just take a deep breath and take your time. I will be creating a few new parts here and it really is just the same process of building up musical elements until you have a full picture.
How ever many musical parts a project has I always like to program my own bass line and this is always the first musical element I start with. This remix was no exception and I got straight onto programming a nice simple bass part.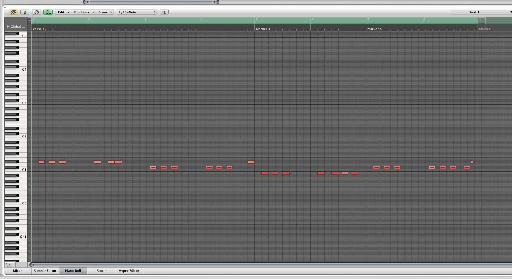 A simple bass part is programmed.
I have used Korg's excellent Polysix synth for this and opted for a very straightforward analog-style bass sound with some nice stereo width. The part was played in, quantized and tidied up in Logic's Piano Roll editor.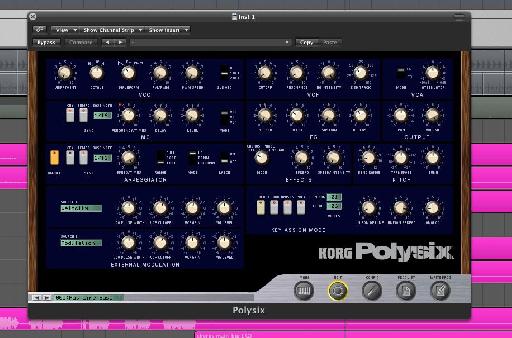 The Korg Polysix used for the bass line.
The new bass line is in place:
The bass patch, pattern and progression used here really set the mood for the rest of the mix and give the existing musical parts a whole new feel. It's really important that any musical progressions you use fit perfectly with the original elements, so be sure to listen carefully to the tunings of every instrument at every stage!
Step 5 - Some Extra Chorus Parts and Minor Tweaks
The next step was to add another synth line to lift the chorus a bit. I went with an instrument called Sylenth 1 (from Lennar Digital) that I have been using a bit recently. It's great for trance-style uplifting sounds and pretty much any other electronic patch you can think of.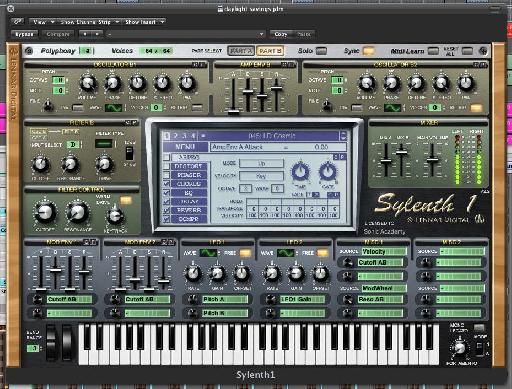 The Sylenth 1 used for the Chorus synth.
The lead synth in isolation:
I added a simple string like melody to the chorus section to make a it a little more uplifting and whilst doing this decided to add some automation to the bass filter frequency. This meant the bass ended up being filtered in the verses and fully open in the chorus, this also helped increase the energy in the transition.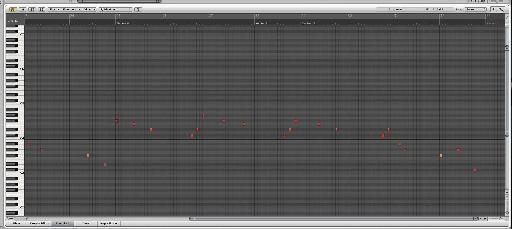 The simple chorus pattern.

Automation is also added to the bass part to increase energy.
The automation in action:
To add even further impact in the second half of each chorus section I reintroduced some of the previously muted percussion from the original project. This shaker part really helped to add pace to these sections.

A shaker from the original project is brought back in.
As you can see although our remix is still in its early stages, it's really starting to take shape. And although the barebones of the arrangement are quite similar to the original, it feels like a completely different track. You can hear where we are up to in the clip below.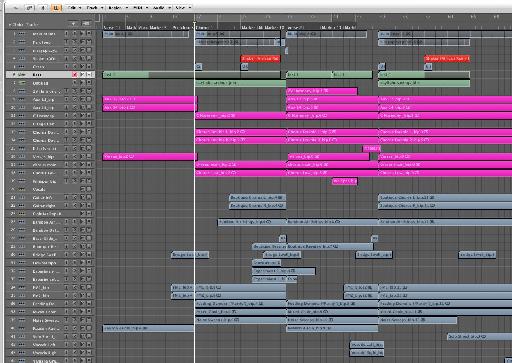 The arrangement takes shape.
Remember at this point the track is not fully mixed and mastered, this will be looked at during the later stages of the tutorial and the overall sound of the project will be much more polished. Next up, in Part 4, we'll take a look at adding more depth and variation to our mix with the use of spatial effects and fill programming.
A rough mix of the arrangement so far:
The song used for this remix series was kindly provided by Church Williams. Please support him by visiting his site.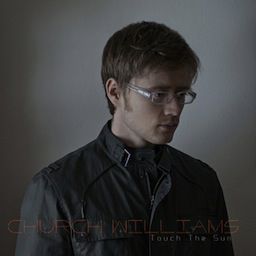 Church Williams - Touch The Sun
Interested in learning more about how to remix? Check out Olav Basoski's Remixing in Live Tutorial-Video series.