In part 1 of this 4-part series exclusive to the MPV Hub, Ben Balser takes you step-by-step through the process of animating text in Apple Motion 5.
Animating text in Motion is pretty easy to do. In this first of a four part series I'll cover the most basic way to animate text, and that is using Anchor Points. This can help do more than just spin it around an axis! I'm assuming you are familiar enough with Motion to create groups, shapes and text layers.
Step 1
I'll create a new generic Motion project. First, I'll use the rectangle shape tool to draw a rectangle and set its Fill to blue and its Outline to yellow, so that it shows up well. Next, I'll type out some text. I'll make it center justified, white and adjust the size so it fits inside of my rectangle.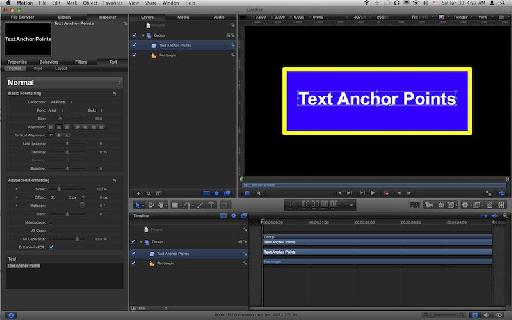 Figure 1
Step 2
With my text layer highlighted, I'll Control-click (or right-click) inside my text in the Canvas and from the pop-up menu select Anchor Point. This activates the anchor point adjustment tool. I'll use only the green and red arrows to move it to the lower left corner of my rectangle. Then F1 to the Properties tab of the Inspector. Open the Transform's Rotation section to see all three X, Y, Z parameters individually. Click and drag on each one, one at a time, to see how the text rotates around each specific axis on the anchor point. Command-Z to undo after each movement. Thus, if I wanted to, I could keyframe combinations of these parameters to rotate my text around in some very interesting ways. But be sure to set them all back to zero before going on. I just want you to see this very simplistic way of using an Anchor Point before moving on to a more advanced technique.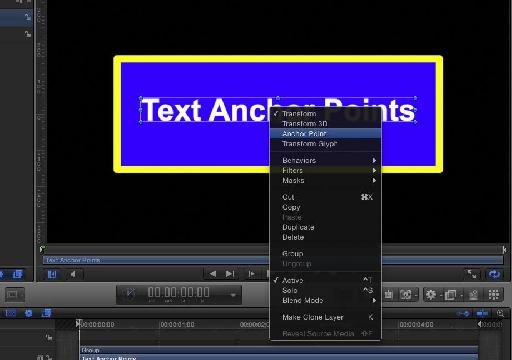 Figure 2
Step 3
Still in the Properties tab for the text layer, I'll right-click on the title of the Anchor Point parameter, chose Reset Parameter, and then re-center my text on my rectangle.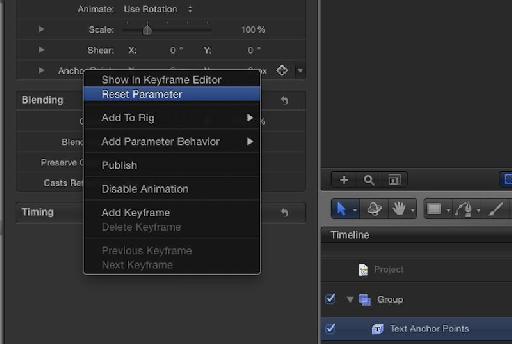 Figure 3
Then, in the Layers pane, I'll highlight the Group that both my text and rectangle layers are in. F1 to the Properties tab. Making sure my playhead is at the beginning of my timeline, I'll right-click the center point of the Group wireframe in the Canvas and from the pop-up menu select Anchor Point. The anchor point needs to be set to the top center of the rectangle.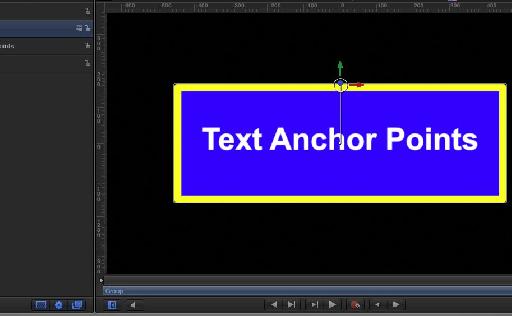 Figure 4
Step 4
Now the fun begins. In the Rotation section of the Properties tab, I'll click to the right of the Rotation section title to create a keyframe. The keyframe diamond turns yellow. I'll set X to 60, Y to -60, Z to -150. Then take my playhead to 3 seconds into my timeline. Since I already manually set the first keyframes, the rest will add automatically. Thus I simply set X, Y and X for Rotation back to 0. Now the movement for the group should be keyframed over the first 3 seconds of my project. Playback should result in both the rectangle and text layers moving in unison together.
Conclusion
This is the most simple and basic way to do complex animation of text. Especially when it needs to move in sync with other layers. In the next three parts of this series we will look at increasingly more sophisticated ways to animate text in Motion.
Quick Links:
Animating Text In Motion Part 1, Anchor Points (You are reading it)