If you need to introduce lighting that simply wasn't available when shooting, don't despair. Ben Balser, Final Cut Pro Genius shows you how to trip the light fantastic in Apple's Motion 5.
Often we would like to introduce some specialized lighting into a video clip, but the problem is we are in post-production and the scene can't be shot again. In special situations we actually can get away with creating fake lighting. Motion is perfect for this as we can create actual lights that cast shadows and can be keyframed. Let me show you what I mean.

Step 1 - Creating The Set
I'll launch Motion and in the Template Browser select the generic Motion Project. I'll import a video clip of a signing translator sitting in a lobby. It's a pretty uninteresting shot as far as the lighting goes, so I'll punch it up. Command-2 for the Library, go to Filters, Color Correction, apply the Levels filter and punch up the contrast a bit, only adjusting for the background to be darker. I'll lighten up the subject later. I'll select those two layers and Shift-Command-G to group them, call it Image, and close it up.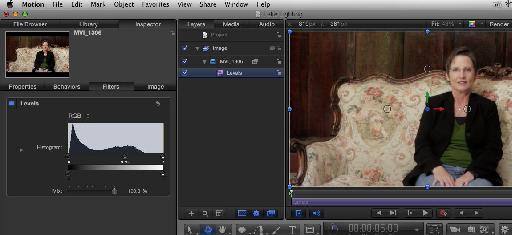 Step 2 - Creating The Lights
I'll use Shift-Command-L to create a new light, F4 to get to the Light tab, set Light Type to Ambient and Intensity to about 40. An ambient light shines on everything all over and casts no shadows nor has direction.
I'll create a second light, set it's Type to Spot, Intensity to 200, Cone Angle to 60, and Soft Edge to 15. F1 to the Properties tab and set the Position parameter X to 30, Y to 8, and Z to 50. I'll put my lights in their own group called Lights. This sets my spot light to fill just her upper torso and face. Thus, my ambient light is controlling the background, the spot my talent, very much like lighting a live set. It's looking much better now, more interesting, better contrast and depth, focusing my audience much more on my talent. But let's take it one step further.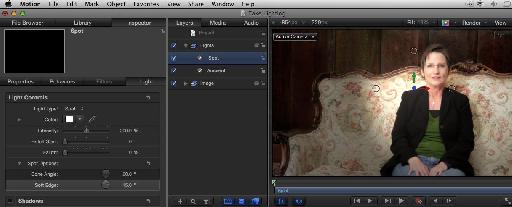 Step 3 - Adding Window Blinds
Just to show you how creative you can get with this technique, I'll add some vertical window blinds to enhance the lighting effect. To start I'll select the Image group and use Shift-Command-N to create a new group and call it Slats. It is vital it sits above the Image group and below the Lights group. Then hit R to select the Rectangle tool and draw a thin rectangle across the middle of my image, being sure it goes well out of the frame on each side. Once it's drawn I'll F4 to the Shape tab, set fill Opacity and Feather to 100 to soften the edges.
Hitting the L key makes it a Replicator. In the Replicator tab I'll set Shape to Line, Start Point Y to 200, End Point Y to -500, and Points to 15 so I have a nice spread. Check the 3D box, also. F1 to the Properties tab and set Rotation Y to -30, Opacity to 50, Blend Mode to Multiply. Finally put the original Rectangle and Replicator into their own group. Because this indicates the sun is setting or rising, I'll change my Ambient Light's color to a reddish orange.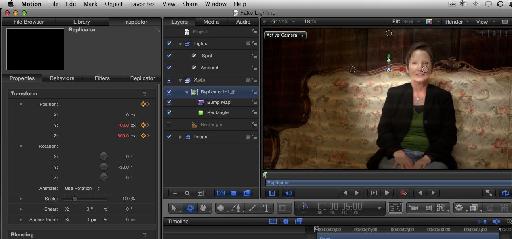 Step 4 - Adding Realism
For some realism, with the playhead at frame 1, for the Replicator layer I'll set Position Y to 100 and Z to 500, then click the keyframe diamonds for each to set keyframes here. Move the playhead to the end of the timeline and set Y to 130 and Z to 530. Now as the clip plays it looks like my light source is actually moving slightly.
But it's not quite realistic enough. What about how the shadows of the blinds fall over the textures of object in my image? F2 for the Library, Filters, Distortion, and apply a Bump Map filter to my Replicator layer. I'll drag my video clip layer into the Map Image well and set Amount to about -0.25. Now the shadows from the blinds bend to the textures of the video clip.
Conclusion
I hope this brief demo gives you the basic concepts of using actual lights in Motion to help correct or enhance less than desired lighting that your video clips were actually shot in. Using an ambient light with other types of lights, especially a spot, can really help enhance an image once it's corrected for the desired contrast of the background. Casting fake shadows and keyframing these elements can help really spice up shots with no or little movement, such as talking heads. Try tinting the spot, or both the ambient and spot, or several spots to different colors at different angles from different locations to achieve various colorful yet subtle looks that are otherwise next to impossible to get with traditional color grading. I hope you experiment with this technique in some of your own video assets and discover some very interesting looks.