It's time for another music theory helper. In this short tutorial-article, Jay Asher takes a beginner's look at how the popular Suspended 4 and Add 2 chords can be used in your productions.
Almost as long as there has been pop music since the '60s, the suspended 4 chord has been a part of the harmonic palette of songwriters. Listen to the introduction of Simon and Garfunkel's 'I Am A Rock' and you hear it. It is prominent in The Beatles 'A Hard Day's Night', Tom Petty's 'Free Fallin'' The Eagles 'Peaceful Easy Feeling', and Queen's 'Crazy Little Thing Called Love' just to name a few. On sheet music, you will see it appear as you do in Pic 1.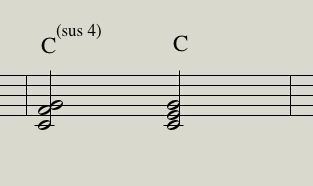 Pic 1
So what is this chord and why is it named as it is? Take the C Major chord you see in the picture. Like all major chords, it is created with the root, 3rd and 5th, in this case C, E, G. If I take that 3rd and move it up a half tone it becomes a 4th. Why 'suspended'? Because our ear hears it as unresolved and needing to change to the 3rd it replaced. So it is said to be 'suspended'.
In Pic 2 we see a different first chord on beat 1 with the same major chord on beat 3. This time it is not the 3rd of the chord that has been replaced but the root C. It has been replaced by the second note of the scale, in this case D. As with the sus 4, the ear tends to want to hear it resolve to the 3rd, although not nearly as strongly, and sometimes the songwriter or composer will not.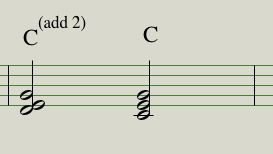 Pic 2
I can hear you asking, 'Wait a minute, is this note not also 'suspended'? Could it not be called a 'sus 2'?
It's called add 2 because we're actually adding a pitch to a chord. The root, while not present in the above example, will usually be played in the bass rather than totally replaced as the 3rd is in the sus 4 chord.
In Pic 3, here is the add 2 resolving to a minor chord, also quite common, as is the sus 4 resolving to the minor chord. You will also see 7th and minor 7th chords with the sus 4 and add 2 included.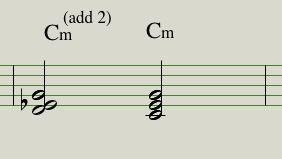 Pic 3
Sometimes you will see this chord referred to as an 'add 9' but if it really was the 9th of the scale it should be what you see in Pic 4.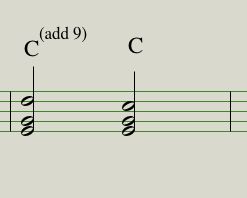 Pic 4
Here in Pic 5 is the first half of the chorus of Badfinger members Peter Ham and Tom Wilson's great song 'Without You', which had two big hit versions, first by Harry Nilsson in the early '70s and later by Mariah Carey in the '90s.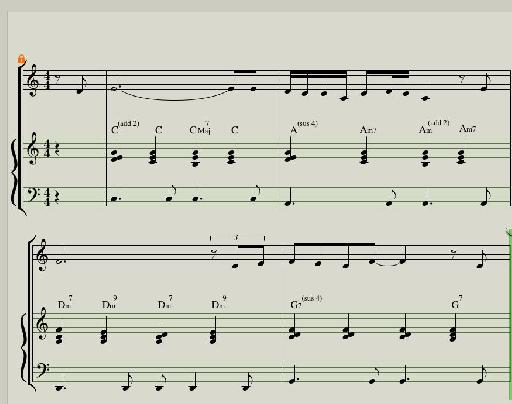 Pic 5
As you can see both of these chords and their variants are prominent in the song. Now when you hear these chords, you will know what they are and why they are so designated and they will become part of your palette as well.