Take a tour of Native Instruments' Traktor with DJ Sara Simms as she shows you how to get started with MIDI mappings for your own customised controllers.
¿Ha sido pinchar con Traktor utilizando las asignaciones a tanto alzado para un largo tiempo, y está pensando en personalizar la forma de controlar el software DJ? Hay una gran cantidad de controladores disponibles para Traktor, y es más fácil de lo que piensas para empezar y personalizar sus propias asignaciones MIDI.
Traktor asignaciones MIDI permite controlar todos los aspectos del software, y usted puede decidir qué teclas o botones controlan funciones específicas. Cada DJ es un individuo, y la forma de controlar su software puede ser tan única como es usted. Traktor te da la libertad para personalizar sus asignaciones, un conjunto de asignaciones personalizadas pueden inspirarte para crear un nuevo grupo, o simplemente hacer más fácil para usted para ser un mejor DJ y artista.
Antes de empezar a con los controles del mapa, le recomiendo que guarde una copia de seguridad y la configuración del dispositivo por defecto. Esto se asegurará de que usted tiene una plantilla para volver a, sólo en caso de que cometa un error.
Cómo guardar sus ajustes predeterminados
Vaya a Preferencias de Traktor, Traktor por clic (en el ángulo superior izquierdo) y luego Preferencias.
Vaya a la página Administrador de control: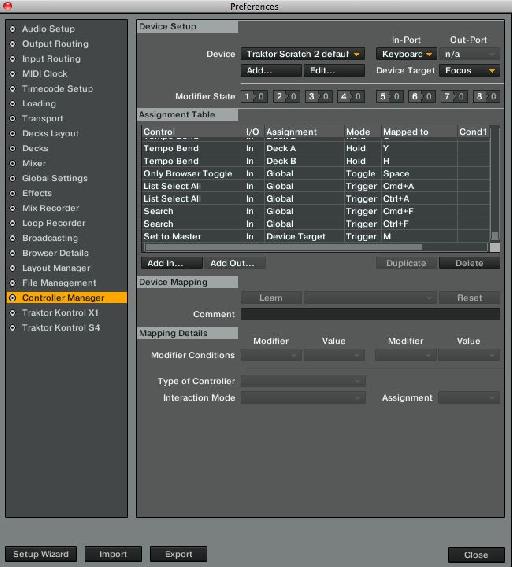 Seleccione el dispositivo que desea guardar, (el dispositivo predeterminado que se suelen utilizar) y luego seleccione "Exportar". En las categorías Elija Exportar ventana, hacer asignaciones seguro teclado, las asignaciones de controladores y Presentación de GUI estar marcada.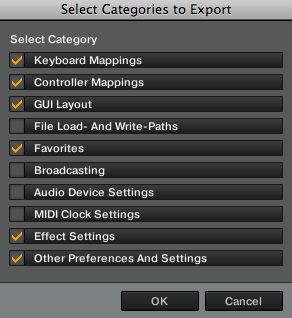 Haga clic en Aceptar y, a continuación, elegir donde guardar el archivo. Tsi archivo (. Tsi es la extensión de archivo para una asignación de Traktor MIDI). Te recomiendo que guarde este archivo de copia de seguridad en la carpeta 'Configuración', que contiene el 'defecto' carpeta de configuración (aquí es donde Traktor automáticamente le dirigirá a guardar el archivo). Asigne un nombre al archivo y guárdelo.
Creación de su propia asignación MIDI
Vamos a empezar a aprender a crear asignaciones MIDI mediante la modificación de un dispositivo existente.
Volver a las Preferencias, vaya al Administrador de controladores y seleccione el dispositivo que desea modificar en el menú desplegable. He optado por modificar el Traktor Scratch 2 Predeterminado Distribución del teclado genérico.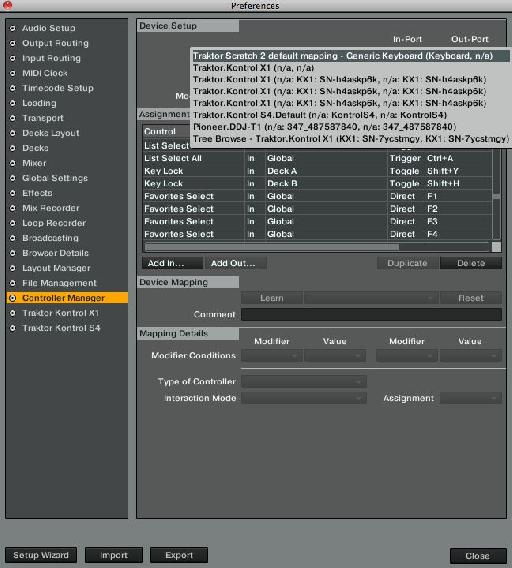 Desplácese hacia abajo a través de la Tabla de Asignación, y usted puede ver todas las señales que se asignan.
Para crear una nueva tarea, seleccione:
'Añadir a', a continuación, desplácese hacia abajo a "Mixer" y "Uno de los efectos Unidad On 'click.
En la Sección de Cartografía del dispositivo, activar el 'Learn' botón (que se volverá amarillo al hacer clic).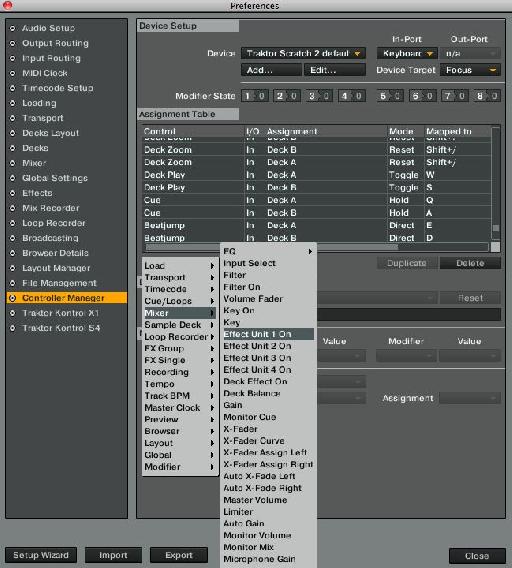 Presione la tecla 'M' clave, que trazará un mapa de esta función a la "M" en su teclado.
A continuación, debe volver a verificar para ver si la tecla "M" ha sido ya asignada a otra función.
Desplácese hacia arriba a través de las otras asignaciones. Si está utilizando el Traktor Scratch 2 Predeterminado Distribución del teclado genérico, usted debe notar que 'M' ha sido asignada a 'Play Primaria' Deck Muestra 4, ranura 3. Si usted no piensa que usted va a utilizar esta función, se puede eliminar pulsando la tecla Suprimir situado debajo de la tabla de asignación. También puede asignar esta función a otra tecla seleccionando el botón 'Learn' llave, y luego pulsando una tecla diferente en el teclado. Asegúrese de que la llave de escoger no está asignado a ninguna otra función, aunque!
A continuación, en la sección Detalles de la asignación, es necesario elegir el "modo interactivo". Puesto que usted va a querer cambiar su FX encendido y apagado, seleccione "Cambiar" en el menú desplegable.

A la derecha de "Modo interactivo", verá la "Asignación". Elija 'Deck A' insertar 'un efecto unitario On' a la cubierta A.
Haga clic en Cerrar en la parte inferior del menú Preferencias.
Pulse el botón 'M' en su teclado. Si ha asignado la Unidad Uno efecto sobre la función, debería ver FX 1 en el plato A la luz al pulsar 'M'.
Felicidades, usted ha aprendido cómo crear asignaciones MIDI! Una vez que domine este conjunto de habilidades, puede aplicar sus nuevos conocimientos y crear una asignación MIDI personalizada desde cero, o simplemente seguir para personalizar las asignaciones predeterminadas.