Take a tour of Native Instruments' Traktor with DJ Sara Simms as she shows you how to get started with MIDI mappings for your own customised controllers.
Sei stato con Traktor DJ utilizzando le mappature standard, per lungo tempo, e stanno pensando di personalizzazione come controllare il software DJ? Ci sono una grande varietà di controller disponibili per Traktor, ed è più facile di quanto si pensi per iniziare e personalizzare le proprie mappature MIDI.
Traktor mapping MIDI permettono di controllare ogni aspetto del software, e si può decidere quali tasti o pulsanti di controllo delle funzioni specifiche. Ogni DJ è un individuo, e il modo di controllare il software può essere unico come sei. Traktor ti dà la libertà di personalizzare le mappature, una serie di mappature personalizzate potrebbero ispirare a creare un nuovo insieme, o semplicemente rendere più facile per voi di essere un DJ migliore e performer.
Prima di iniziare a controlli di mappa, vi raccomando caldamente di salvare ed eseguire il backup delle impostazioni del dispositivo di default. Questo farà sì che si dispone di un modello di ritornare, nel caso in cui si commette un errore.
Salvataggio delle impostazioni predefinite
Passare le Preferenze di Traktor, da Traktor cliccando (in alto a sinistra), quindi Preferenze.
Passare alla pagina di Gestione Controller: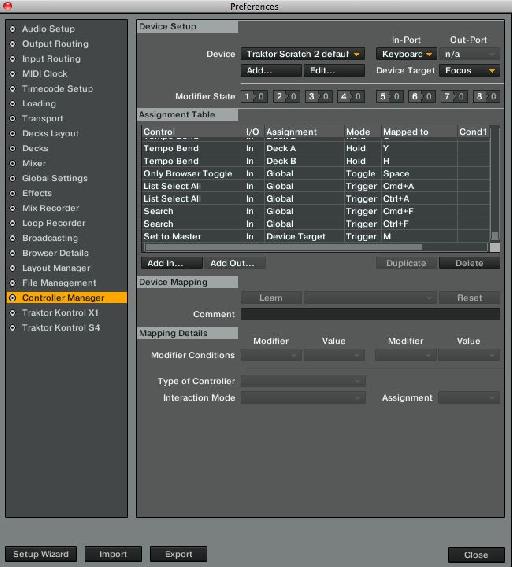 Selezionare il dispositivo che si desidera salvare, (il dispositivo di default che di solito uso) e quindi selezionare 'Esporta'. Nelle categorie Selezione da esportare finestra, fare mappature di tastiera sicuro, Mapping controller e layout GUI rimanere controllato.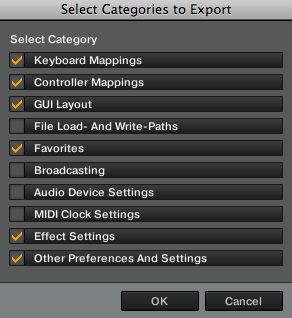 Fare clic su OK, quindi scegliere dove potrete salvare il file. Tsi (. TSI è l'estensione del file per una mappatura Traktor MIDI). Vi consiglio di salvare il file di backup nella cartella "Impostazioni", che contiene la cartella 'Default' impostazioni (questo è dove Traktor automaticamente diretto di salvare il file). Assegnare un nome al file e salvarlo.
Creazione di una mappatura MIDI
Stiamo per iniziare a imparare a creare mappature MIDI modificando un dispositivo esistente.
Ritorno alle preferenze, passare a Gestione Controller, e scegliere il dispositivo che si desidera modificare dal menu a discesa. Ho scelto di modificare il Traktor Scratch 2 Tastiera di default generica Mapping.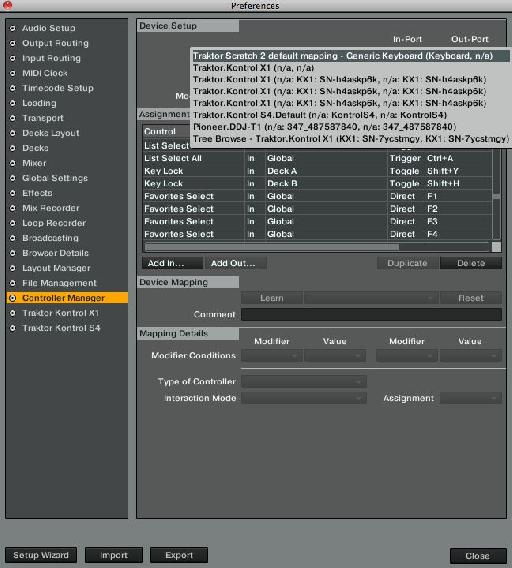 Scorrere verso il basso attraverso la tabella di assegnazione, e si possono vedere tutti i segnali che vengono assegnati.
Per creare una nuova assegnazione, selezionare:
'Aggiungi in', quindi scorrere fino a 'Mixer', e fare clic su 'Unit One Effect On'.
Nella sezione Mapping dispositivo, attivare il pulsante 'Learn' (che diventerà giallo quando si fa clic).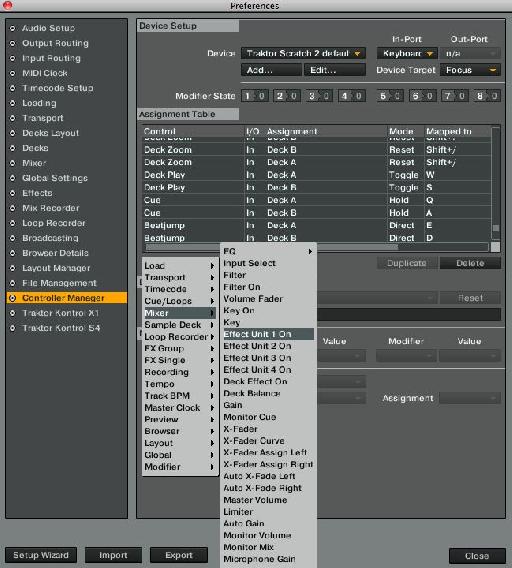 Premere il tasto 'M', che eseguirà il mapping questa funzione per il tasto 'M' sulla tastiera.
Successivamente, è necessario effettuare una doppia verifica per vedere se il tasto 'M' è stato già assegnato ad un'altra funzione.
Scorrere verso l'alto attraverso gli altri incarichi. Se si utilizza il Traktor Scratch 2 Keyboard Mapping predefinito generico, si dovrebbe notare che la 'M' è stato assegnato a 'Play Primary' Deck Campione 4, Slot 3. Se non pensate di utilizzare questa funzione, è possibile eliminarlo premendo il tasto Canc si trova sotto la tabella di assegnazione. È inoltre possibile assegnare questa funzione ad un altro tasto premendo il tasto 'Learn', e poi premendo un tasto diverso sulla tastiera. Assicurarsi che la nuova chiave si sceglie non è assegnato ad altre funzioni però!
Successivamente, nella sezione Dettagli Mapping, è necessario scegliere la 'modalità di interazione'. Dal momento che si vuole attivare il vostro FX e spegnimento, scegliere 'Toggle' dal menu a discesa.

A destra di 'modalità di interazione', vedrete il 'assegnazione'. Scegliere 'Deck A' assegnare 'Unit One Effect On' per Deck A.
Fare clic su Chiudi nella parte inferiore del menu Preferenze.
Premere il tasto 'M' sulla tastiera. Se si è riusciti mappato il Una Unità effetto sulla funzione, si dovrebbe vedere FX 1 sul deck A si accendono quando si preme 'M'.
Congratulazioni, avete imparato come creare mappature MIDI! Una volta che hai imparato questo set di abilità , è possibile applicare le nuove conoscenze e creare una mappatura personalizzata MIDI da zero, o semplicemente continuare a personalizzare le mappature di default.