There's been a flurry of activity at Native Instruments HQ of late. Not content with redefining the way we integrate hardware & software to make music, they've recently announced a new sound library.
Es war eine hektische Aktivität bei Native Instruments HQ der letzten Zeit. Nicht zufrieden mit einer Neudefinition der Art, wie wir
Hier ist, wie unsere guten Freunde bei Native Instruments ihre neueste Angebot beschreiben:
"True School ist ein neuer Eintrag in die Reihe der Download-Bibliotheken für den gefeierten MASCHINE MASCHINE und MIKRO Groove Production-Systeme. Die Kombination klassischer Hip-Hop-Empfindlichkeiten mit futuristischem Sound-Ästhetik, die Erweiterung ein Arsenal von Schlagzeug-Sounds und Instrumente, die die Grundlage legen kann bietet für organische doch zutiefst modern klingende Produktionen in Hip Hop, Dubstep und verschiedenen linken Bereich elektronische Genres. Eine kompakte Version der Erweiterung wird sich auch für die kürzlich veröffentlichte iMASCHINE Smartphone-App zur Verfügung.
TRUE SCHOOL umfasst 40 charismatische Kits sowohl auf akustischen und elektronischen Drum Sounds, die alle mit sonic Artefakte und andere charismatische Verzierungen, sondern mit ihren jeweiligen natürlichen Raumklang intakt verbesserte Basis. Der daraus resultierende Sound Material ist sowohl fett als auch scharfe sowie warme und sandige zur gleichen Zeit. Die Kits sind mit einer Auswahl von 70 sorgfältig gestalteten Instrumenten-Sounds in die gleiche klangliche Vene geschaffen, die von neu abgetastet und speziell verarbeitet Streicher, Bläser und Klavier klingt Unterscheidungskraft führt und Bässe aus ausgewählten begehrten analogen Synthesizern abgetastet ergänzt.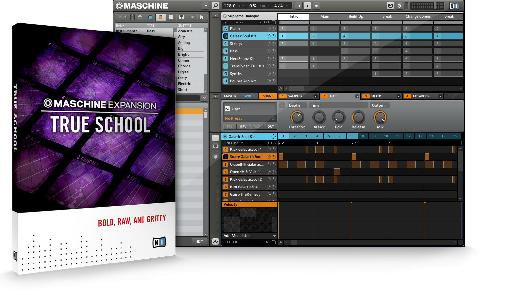 Alle Sounds und Patches in wahre Schule integrieren sich nahtlos in jede bestehende Sound-Bibliothek von MASCHINE, mit voller Kategorisierung von Metadaten und die automatische Parametrierung. Die Erweiterung umfasst auch 6 Demo-Projekte mit professionell produzierten Muster und Licks, die den Charakter und den Umfang der Bibliothek zu präsentieren.
TRUE SCHOOL ist ab sofort zum Download im NI Online Shop für $ 59 / 49 EUR.
Für die iMASCHINE Nut Skizzenblock für iPhone und iPod touch, eine kompakte Version von TRUE SCHOOL mit 3 Drum-Kits und 5 Instrumenten-Sounds werden in Kürze als In-App-Kauf für 0,99 $ / 0,79 EUR. "
Erfahren Sie mehr über echte Schule hier .
Schauen Sie sich die riesige Auswahl an MPV Tutorial-Videos auf