Constructing your own sounds or effects from scratch in Absynth doesn't have to be a long, drawn-out process. Scott Freiman shows how the Mutator can be used to generate new from old.
Absynth ist ein unglaublich druckvollen Sound Generator und Effekt-Prozessor. Mit seinen zahlreichen Oszillator-Typen, drei LFOs, einzigartige Effekte, und 68-Bühne Umschläge, produziert Absynth klingt wie keine andere Software oder Hardware-Synthesizer.
Mit fast 2000 Presets und eine leicht Browser verwenden, dont viele Nutzer weiter zu gehen als die integrierte Bibliothek. Zwar kann den Bau neuer Sounds oder Effekte aus dem Nichts in Absynth entmutigend sein. Zum Glück stellte Absynth 5 eine neue Funktion zur Erzeugung von Klängen und Auswirkungen auf bestehende Sounds. Seine sogenannten Mutator.
Mit dem Mutator ist ein dreistufiger Prozess. Zunächst wählen Sie eine Voreinstellung, die Sie möchten als Grundlage für einen neuen Sound zu verwenden. Als nächstes wählen Sie ein oder mehrere Attribute in den Browser um eine Liste der sekundären Presets mit diesen Attributen zu erstellen. Schließlich verwenden die Mutate Taste, um einen neuen Sound mutiert das ursprüngliche Preset in etwas, das wie die sekundäre Voreinstellungen in Ihrer Ergebnisliste Sounds zu erzeugen.
Heres ein einfaches Beispiel zu zeigen, wie es in der Praxis funktioniert.
Schritt 1

Können sagen, wir wollen eine Stimme Klavierklang. Mit anderen Worten, wir wollen irgendwie zusammenführen Eigenschaften eines Klaviers mit den Merkmalen des Gesangs-Sound.
Erstens können wählen Sie die Grand Piano 1-Sound mit der Suchleiste.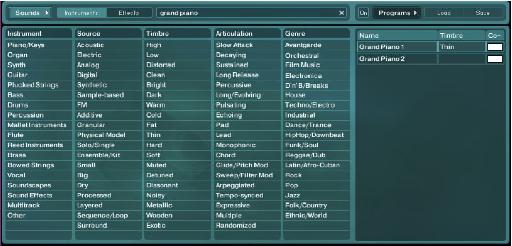 Schritt 2

Anschließend deaktivieren Sie das Suchfeld ein und wählen einige Attribute aus dem Browser.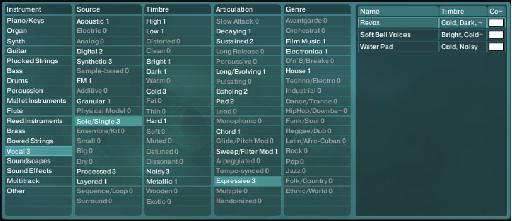 Schritt 3

Nun, stellen Sie die Mutation Betrag (bis zu welchem ​​Grad Sie das Klavier in einen Gesangs-Sound verändert werden) und der zufälligen Betrag (die Höhe der Randomisierung Sie wollen in die Mutation Prozess einzuführen). Drücken Sie mutieren.

Ihr neuer Sound Grand Piano 1 M 1 sein. Play it und sehen, was Sie denken. Möchten Sie eine andere Mutation zu versuchen? Drücken Sie die Schaltfläche Wiederholen. Besser noch, drücken Mutate wieder. Jedes Mal, wenn Sie mutieren, fügt Absynth einen neuen Eintrag, um die Mutation Geschichte.
Sie können die Attribute in den Browser, sowie die Mutation Betrag und zufälligen Betrag vor jeder Mutation ändern, wenn Sie möchten. Sie können jeden Ton von der Mutation Geschichte von der Mutation Geschichte Dropdown-Menü wählen, so ist es einfach, probieren verschiedene Mutationen, bis Sie die Ihnen gefällt.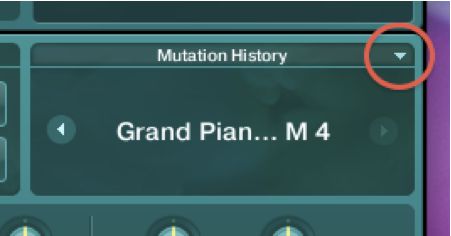 Schritt 4

Sie können weitere Änderungen an Ihren Sound mit dem Finetuning am unteren Rand des Browsers:

Natürlich können Sie alle Ihre Mutationen als neue Voreinstellung, um es zusätzlich zu Ihrer Bibliothek zu speichern.
Schritt 5

Theres so viel, dass man mit dem Mutator tun. Zum Beispiel können Sie anweisen, die Mutator, welche Module mutiert und soll, welche nicht durch Drehen Zellen ein-oder ausschalten in der Mutation Matrix.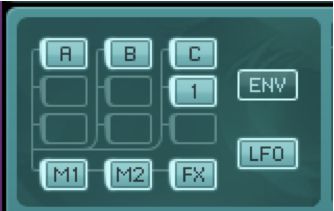 Sie können sogar mutieren einem bestimmten Oszillator, Filter, Waveshaper, Modulator oder Effekt mit dem Bearbeiten-Menü für dieses Modul.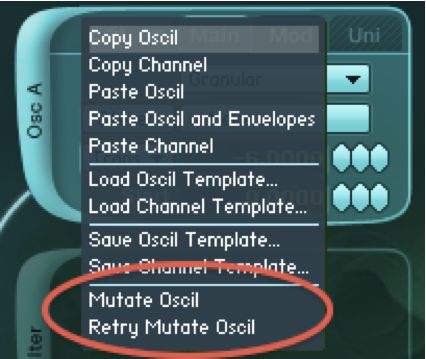 Der Mutator ist eine großartige Möglichkeit, neue Sounds und Effekte in Absynth, ohne zu lernen, wie etwa die Benutzeroberfläche navigieren zu schaffen. Wenn der Mutator macht Lust auf mehr komplexe Sound-Design, dann youll alles finden, was Sie brauchen, um in mein Know Absolute Absynth Video Tutorial auf macProVideo.com .