With the new Apple iPad Pro being announced less than 24 hours ago, we take a cursory look at how this bigger and more powerful iPad could change the way we make music forever.
Even if you were sitting under a rock somewhere yesterday, it's likely that you heard the ahhh's and ooh's accompanying Apple's iPad Pro announcement. It's bigger than any previous iPad and reported to have highest resolution ever with a powerful 64-bit "desktop-class architecture" chip. Alongside the larger canvas/screen are accessories, perhaps designed to make iPad Pro a more capable creation device like current laptops.
With a nod in the direction of the Microsoft Surface, Apple have announced their Smart Keyboard. And, despite how disparaging Steve Jobs was about the need for a stylus, the Apple pencil is a tilt and pressure sensitive input device which artists will surely be happy to see.
But, how will the new features and larger size of iPad Pro impact music production? Here's 5 ways we think it will help.
#1 Power
As computing power has increased so has the capability of our digital music studios. Where once we were limited to a small number of simultaneous audio recordings and audio processing plug-ins, the more powerful the chip, the more our DAWs are able to do. And this can be applied to iPad Pro too. We'll likely see more powerful and feature-rich versions of GarageBand (GarageBand Pro anyone?), and a whole host of app developers will look to make their audio apps take advantage of the extra processing power.
Not only will we be able to make use of more powerful features, like real-time pitch correction, that we once thought of as being confined to powerful desktop computers, I predict we'll see the iPad being able to process audio at lower latencies. That could allow iPad Pro to be used as a serious multiple input recording device for bands and live events at high sample rates with professional audio interfaces.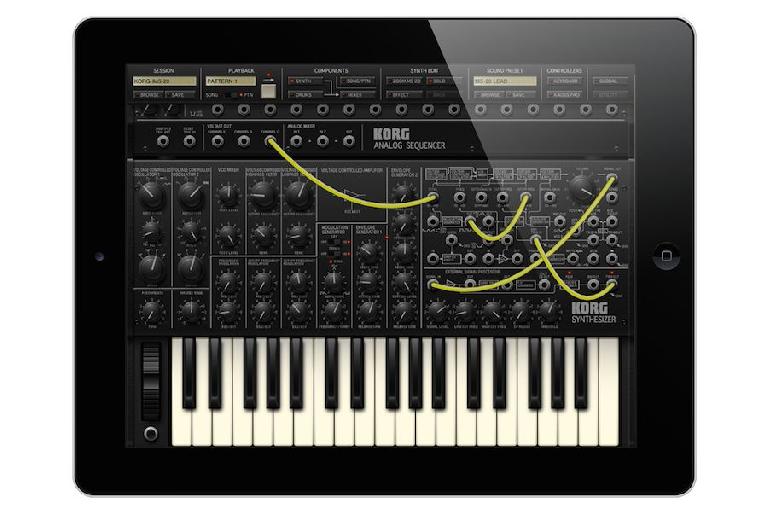 The Korg iMS-20 on iPa Air. iPad Pro should enable even more powerful synths and apps to be created.
#2 Multitasking
One of the big features of iOS 9 is being able to work with multiple apps and being able to see both apps simultaneously. With iPad Pro, this would mean apps appear to be the same size as on iPad Air. That's impressive and means no squinting, and (hopefully) seamless Multitasking! Just as you'd expect to see a plug-in while using Logic or Ableton, Multitasking would allow the same but on a touch screen device.
#3 Apple Pencil Not Just for Writing
Why would a stylus come in handy when creating or performing music on iPad Pro? Well, it depends how developers decide to make use of it. But, with tilt and pressure sensitivity, I can imagine Apple Pencil being useful for adjusting controls and values and performing interesting performance-style tricks on an XY pad. Alternatively, imagine being able to create steps on a step sequencer interface where the pressure determines the velocity of each step. Possibilities are endless. And, you'll still be able to use multi-touch, but Apple pencil amy give us more precise control while still being able to see the interface without it being covered by a smudgy finger!
#4 Screen Size
Sound obvious. And, it is! The larger 12.9 inch screen on iPad Pro is going to make a huge difference when DJing, performing or creating music in the studio. Let's face it, synths, audio effect plug-ins, and DAWs are complex beasts, often with multiple controls and many possibilities. So, screen real estate has always been important when opening a single plug-ins. The more you can see on screen at one time, the more immediately you can access and modify controls, which all-in-all keeps you in the flow of the music, rather than swiping or tapping to see more controls.
Perhaps the larger screen size and power of iPad Pro means we'll see more powerful DAWs on the platform too? (I'm looking at you Ableton, Steinberg and Propellerhead).
#5 Collaboration
Being bigger also affords more potential for collaborating and playing with band members using a single iPad Pro. There are apps already which can share a single iPad between different band mates. The videos of it in action generally show them hunched over the screen. So, now we're talking less hunching, better posture, and more space to have, for example, one person controlling rhythms, another controlling the melodic parts and someone else triggering FX, etc.
In my opinion, the larger space, or canvas in which to work will help make music on iPad Pro into a more social experience, and one where iPad Pro could also feel more like an instrument.
iPad Pro is set to be released in November, and with iOS 9's audio plug-in architecture coming before then, music making on tablets is probably going to become more accessible and more powerful. If you have any other ideas on how iPad Pro will improve the music production or recording process do let us know in the comments.
A video from Apple showing iPad Pro in action:
Find out more about the Apple iPad Pro here.