Logic Pro X 10.1 and Logic Remote 1.2 were interesting releases introducing new functionality. Apogee are quick off the mark to announce their interfaces are fully controllable from both.
Santa Monica, Kalifornien, 10. März 2015 - Apogee freut sich, die Verfügbarkeit neuer Software-Installer, die verkünden, bieten Kompatibilität mit den Audio-Interface Fernbedienungen kürzlich in Logic Pro und Logic X 10.1 Fern 1.2 eingeführt . Jetzt Logic Anwender mit Apogee Duet, ONE, Quartett, Ensemble oder Symphony I / O-Hardware Eingabeparameter direkt von der Mixer-Ansicht in Logic Pro X und stellen Sie Logic Fern einschließlich Mic Pre Gain Eingangstyp Auswahl, Phasenanschnittsteuerung und mehr. Dieser vereinfachte Benutzeroberfläche lässt Logic Benutzer konzentrieren sich auf einen einzigen Sitzungsfenster bei der Aufnahme, und bietet vollständige Transparenz und Kontrolle der Eingangsparameter.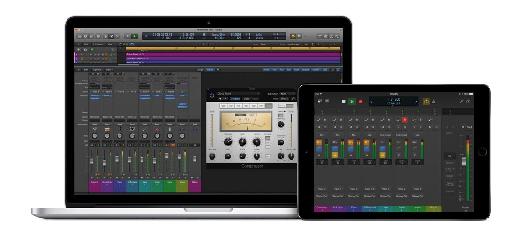 Diese gleichen Input-Kontrollen sind nun auch durch das Logic Remote App auf dem iPad zugänglich und ermöglicht es Benutzern, drahtlos Apogee ihre Eingangspegel und Einstellungen von überall im Studio. Schlagzeuger können Mic Preamps, ohne sich von hinten dem Kit zu bekommen einstellen können Ingenieure eine Streckenflugüberprüfung zu tun, während immer noch die Einrichtung Mikrofone, und zu Hause Musiker Aufnahme selbst können zwischen einem Mikrofon und direkt angeschlossene Gerät wechseln, ohne vor ihren Computern .
Sehen Sie, wie Sie Ihre Apogee Mic Preamps in Logic Pro X zu steuern:
Um die Vorteile dieser neuen Funktion zu nutzen, muss Logic Benutzer mit den folgenden Apogee Produkte Logic Pro X 10.1 als auch die neue, aktualisierte Software / Firmware von Apogees Website.
Kompatibel Apogee Produkte
Duett für iPad
Duet 2

Ensemble Thunderbolt

ONE für iPad
ONE for Mac

Quartett

Symphony I / O-

Web: Apogee Webseite