If you open up the Mac App Store you're in for a nice GarageBand update. It includes features from Apple's flagship DAW, Logic Pro X, and the new Transform Pad Smart Control for morphing synth sounds.
Gone are the days we used to look at GarageBand as the poor relation to Logic Pro X. Sure, it doesn't have half the feature set as its big brother. But its purpose is still clearly defined as being an easy, but curiously powerful, way to get recording and producing your own music on an current Mac computer.

And with the release of Apple Music, GarageBand is now the first DAW (digital audio workstation) to support sharing projects directly to Apple Music Connect. We expect an update for Logic Pro X must be coming soon which will add similar functionality?

What's New in GarageBand 10.1?
Logic X already has new Drummers for electronic styles, and GarageBand 10.1 now features 10 new Drummers that can produce beats for you in a variety of styles from Hip Hop to House, Trap to Techno, Dubstep to'¦ well, more!

The new Transform Pad Smart Control is the big news in my opinion. With over 1000 new EDM and Hip Hop synth patches, the Transform Pad Smart Control allows you to effortlessly morph between sounds with controls similar to the pads found in Alchemy, by the recently Apple acquired Camel Audio.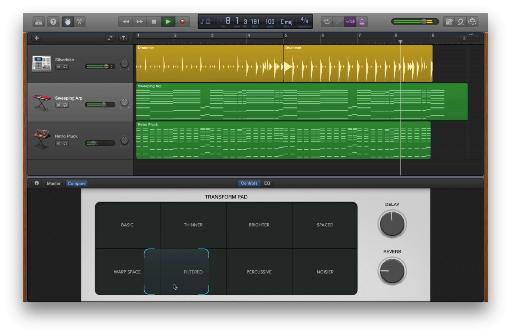 The new Transform Pad Smart Control allows for easy and effective morphing of synth sounds.
GarageBand 10.1 supports sharing of your songs directly to Apple Music Connect. We haven't investigated this feature fully yet, but it appears to be a seamless export function.

There's support for the Force Trackpad found on the new MacBook Pros and other upgrades to 'enhance accessibility'. Oh, and if you encountered a bug in past version where long recording couldn't be exported, Apple tell is this is now fixed.

Pop by the Mac App Store to get your free update.
Learn to make music with GarageBand in these video tutorials.