If you open up the Mac App Store you're in for a nice GarageBand update. It includes features from Apple's flagship DAW, Logic Pro X, and the new Transform Pad Smart Control for morphing synth sounds.
Vorbei sind die Tage, die wir verwendet, um bei Garageband als arme Verwandte zu Logic Pro X. Klar sehen, tut es die halbe Funktion wie sein großer Bruder gesetzt. Aber seinen Zweck noch eindeutig als eine einfache, aber leistungsfähige neugierig, Weg, um die Aufnahme zu erhalten und Herstellung Ihrer eigenen Musik auf einem aktuellen Mac-Computer definiert.

Und mit der Veröffentlichung des Apple-Musik, ist Garageband nun der erste DAW (Digital Audio Workstation) auf Sharing-Projekte direkt an Apple Musik Connect unterstützt. Wir erwarten ein Update für Logic Pro X muss bald kommen, die eine ähnliche Funktionalität hinzufügt?

Was ist neu in Garageband 10.1?
Logic X bereits über neue Drummers für elektronische Designs, und Garageband 10.1 verfügt nun über 10 neue Drummers, die Beats für Sie in einer Vielzahl von Stilen von Hip Hop bis House bis Techno, Dubstep produzieren kann, Falle, gut, mehr!

Die neue Pad Trans Smart Control ist die große Neuigkeit meiner Meinung nach. Mit mehr als 1000 neue EDM und Hip Hop-Synth-Patches, die Transform Pad Smart Control ermöglicht es Ihnen, mühelos zwischen Sounds morphen mit ähnlich wie die Pads in Alchemy gefunden Kontrollen, durch die vor kurzem von Apple erworben Camel Audio.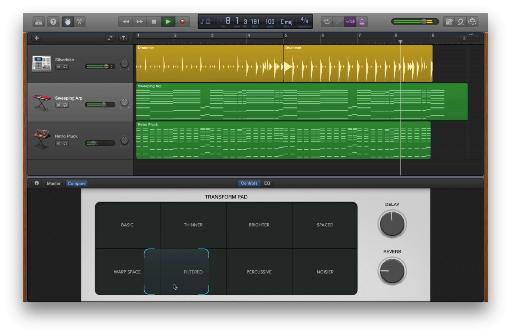 Die neue Pad Trans Smart Control ermöglicht die einfache und effektive Morphing von Synth-Sounds.
Garageband 10.1 unterstützt die gemeinsame Nutzung Ihrer Songs direkt an Apple Musik Connect. Wir haben diese Funktion vollständig noch untersucht, aber es scheint, um einen nahtlosen Exportfunktion sein.

Theres Unterstützung für die Waffen Trackpad auf dem neuen MacBook Pros und andere Upgrades gefunden, um die Zugänglichkeit zu verbessern. Oh, und wenn Sie einen Fehler im letzten Version angetroffen, wo lange Aufnahme konnte nicht exportiert werden, ist Apple sagen, das ist nun behoben.