If you open up the Mac App Store you're in for a nice GarageBand update. It includes features from Apple's flagship DAW, Logic Pro X, and the new Transform Pad Smart Control for morphing synth sounds.
Atrás han quedado los días en que solíamos mirar a GarageBand como el pariente pobre a Logic Pro X. Claro, es imposible tener la mitad del conjunto de características que su hermano mayor. Pero su propósito es todavía claramente definida como una forma fácil, pero curiosamente poderosa, manera de conseguir grabar y producir su propia música en un equipo Mac actual.

Y con el lanzamiento de la música de Apple, GarageBand es ahora la primera DAW (estación de trabajo de audio digital) para apoyar proyectos de intercambio directamente a Apple Music Connect. Esperamos una actualización para Logic Pro X debe venir pronto que añadirá una funcionalidad similar?

Qué hay de nuevo en GarageBand 10.1?
Lógica X ya tiene nuevos bateristas de estilos electrónicos, y GarageBand 10.1 ahora cuenta con 10 nuevos bateristas que pueden producir latidos para usted en una variedad de estilos de Hip Hop a Casa, Trampa a Techno, Dubstep para bien, más!

El nuevo Transformar Pad Smart Control es la gran novedad en mi opinión. Con más de 1.000 nuevos parches de sintetizador Hop EDM y la cadera, la Transformada Pad Smart Control permite experimentar transiciones entre sonidos sin esfuerzo con controles similares a las pastillas que se encuentran en la alquimia, por el recientemente Apple adquirió Camel Audio.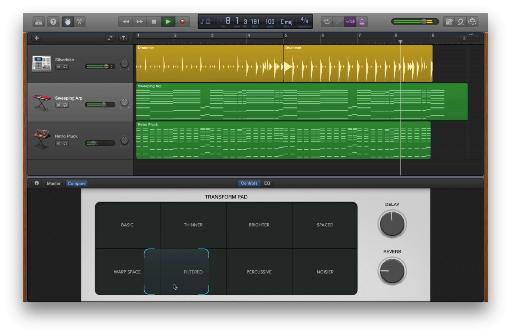 El nuevo Transformar Pad Smart Control permite morphing fácil y efectiva de sonidos de sintetizador.
GarageBand 10.1 admite el uso compartido de tus canciones directamente a de Apple Music Connect. Nos has investigado esta característica completamente todavía, pero parece ser una función de exportación sin fisuras.

Theres apoyo a la Fuerza Trackpad encontrar en los nuevos MacBook Pro y otras mejoras para mejorar la accesibilidad. Ah, y si usted encontró un error en la versión pasada donde grabación larga podía ser exportado, tell Apple es este ha sido arreglado.