If you open up the Mac App Store you're in for a nice GarageBand update. It includes features from Apple's flagship DAW, Logic Pro X, and the new Transform Pad Smart Control for morphing synth sounds.
Finie l'époque que nous avons utilisé pour regarder GarageBand comme le parent pauvre de Logic Pro X. Bien sûr, il ne marche pas avoir la moitié de l'ensemble des fonctionnalités que son grand frère. Mais son but est toujours clairement définie comme étant un moyen facile, mais curieusement puissant moyen d'obtenir l'enregistrement et la production de votre propre musique sur un ordinateur actuel Mac.

Et avec la sortie d'Apple Musique, GarageBand est maintenant la première DAW (station de travail audio numérique) pour soutenir des projets de partage directement à Apple Musique Connect. Nous nous attendons à une mise à jour pour Logic Pro X doit venir bientôt qui va ajouter une fonctionnalité similaire?

Quoi de neuf dans GarageBand 10.1?
Logic X a déjà de nouveaux batteurs pour les styles électroniques, et GarageBand 10.1 dispose désormais 10 nouveaux batteurs qui peuvent produire des beats pour vous dans une variété de styles de Hip Hop à la Chambre, Piège Techno, Dubstep bien plus!

La nouvelle Transformer Pad Smart Control est les grandes nouvelles à mon avis. Avec plus de 1000 nouveaux correctifs Hop synthé EDM et de la hanche, le Smart Pad Transformer contrôle vous permet de métamorphoser sans effort entre les sons avec des commandes similaires aux plots trouvés en Alchimie, par le récemment Apple a acquis Camel Audio.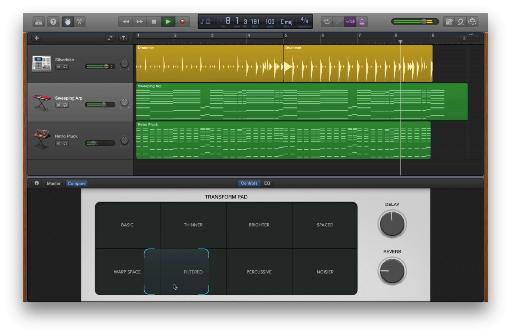 La nouvelle Transformer Pad Smart Control permet de morphing facile et efficace des sons de synthé.
GarageBand 10.1 supporte le partage de vos chansons directement à Apple Musique Connect. Nous havent étudié cette fonctionnalité encore complètement, mais il semble être une fonction transparente de l'exportation.

Theres appui à la Force de Trackpad trouvé sur les nouveaux MacBook Pro et d'autres mises à jour pour améliorer l'accessibilité. Oh, et si vous avez rencontré un bug dans la version longue passé où l'enregistrement ne pouvait pas être exporté, Apple tell est présent est maintenant corrigé.