If you open up the Mac App Store you're in for a nice GarageBand update. It includes features from Apple's flagship DAW, Logic Pro X, and the new Transform Pad Smart Control for morphing synth sounds.
Sono finiti i giorni in cui siamo abituati a guardare GarageBand come il parente povero di Logic Pro X. Certo, si pretende molto avere la metà del set di funzionalità come il suo fratello maggiore. Ma il suo scopo è ancora chiaramente definito come un modo facile, ma stranamente potente, modo per ottenere la registrazione e produrre la propria musica su un computer Mac corrente.

E con la versione di Apple Musica, GarageBand è ora il primo DAW (Digital Audio Workstation) a sostegno di progetti di condivisione direttamente ad Apple musica Connect. Ci aspettiamo un aggiornamento per Logic Pro X dobbiamo essere venendo presto che aggiungerà funzionalità simile?

Che cosa è nuovo in GarageBand 10.1?
Logic X ha già nuovi Drummers per gli stili elettronici, e GarageBand 10.1 offre ora 10 nuove Batteristi che possono produrre batte per voi in una varietà di stili da Hip Hop a casa, Trappola di Techno, Dubstep di bene, di più!

La nuova Trasforma Pad Smart Control è la grande novità , a mio parere. Con oltre 1000 nuove patch Hop synth EDM e Hip, il Transform Pad Smart Control permette di trasformarsi senza fatica tra i suoni con controlli simili ai pad trovano in alchimia, dal recente Apple ha acquisito Camel Audio.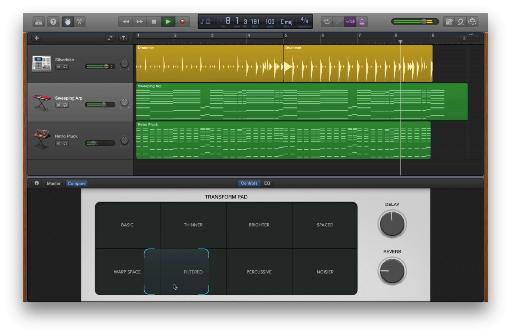 La nuova Trasforma Pad Smart Control consente morphing facile ed efficace di suoni di synth.
GarageBand 10.1 supporta la condivisione delle vostre canzoni direttamente ad Apple Musica Connect. Noi havent studiato questa caratteristica completamente ancora, ma sembra essere una funzione di esportazione senza soluzione di continuità .

C'è il supporto per il trackpad Forza trovato sui nuovi MacBook Pro e altri aggiornamenti per migliorare l'accessibilità . Oh, e se avete incontrato un bug nella versione precedente in cui la registrazione a lungo non può essere esportato, Apple raccontare è questo è stato corretto.