If you open up the Mac App Store you're in for a nice GarageBand update. It includes features from Apple's flagship DAW, Logic Pro X, and the new Transform Pad Smart Control for morphing synth sounds.
Longe vão os dias usamos a olhar para o GarageBand como o parente pobre para Logic Pro X. Claro, ele não tem a metade do conjunto de recursos como seu irmão mais velho. Mas seu objetivo ainda é claramente definido como sendo uma tarefa fácil, mas curiosamente poderosa, maneira de obter a gravação e produção de sua própria música em um computador Mac atual.

E com o lançamento da Apple Music, GarageBand é agora o primeiro DAW (digital audio workstation) para apoiar projectos de partilha directamente para a Apple Música Connect. Esperamos uma atualização para Logic Pro X deve ser em breve que irá adicionar funcionalidade semelhante?

Whats Novo em GarageBand 10.1?
Logic X já tem novos bateristas para estilos eletrônicos, e GarageBand 10.1 agora apresenta 10 novos bateristas que podem produzir batidas para você em uma variedade de estilos de Hip Hop para House, Armadilha para Techno, Dubstep para o bem, muito mais!

O novo Transform Pad Controle Smart é a grande novidade na minha opinião. Com mais de 1000 novos patches Hop synth EDM e quadril, a Transform Pad Controle Smart permite-lhe transformar facilmente entre sons com controles semelhantes aos encontrados em almofadas Alquimia, pela recentemente a Apple adquiriu Camel Audio.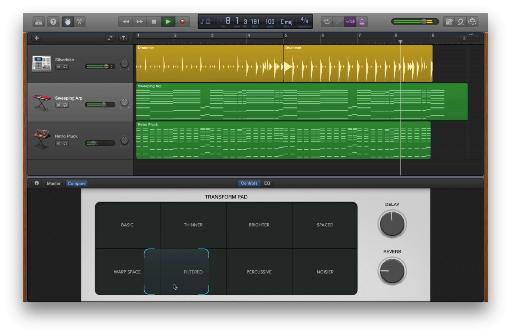 O novo Transform Pad Controle Smart permite morphing fácil e eficaz de sons de sintetizador.
GarageBand 10.1 suporta o compartilhamento de suas músicas diretamente para a Apple Música Connect. Nós não reembolsaram investigado esse recurso ainda completamente, mas parece ser uma função de exportação sem costura.

Há suporte para o Trackpad Força encontrado nos novos MacBook Pros e outras atualizações para melhorar a acessibilidade. Ah, e se você encontrou um bug na versão long passado onde a gravação não poderia ser exportado, a Apple tell é este agora é fixo.