ارتورياوسبق الترقيات تكافؤ عيد الميلاد تأتي في وقت مبكر
Arturia announces Holiday season deals throughout November and December 2013. Pick up and Minibrute or SparkLE and get some instruments/packs for free!
البرمجيات والموسيقى وشركة الأجهزة
شراء Minibrute الحصول على 2 أداة البرمجيات مجانا - شراء لدينا الثورية، وغالبا ما منحت والمزج التناظرية 100٪، وسوف يكون قادرا على اختيار أدوات البرمجيات 2 في قائمة 12 صكا (ليتم تسليمها لك من خلال تنزيل.)
شراء آلة الطبل التألق الحصول على 4 حزم توسيع مجانا - شراء لدينا أحدث البريق الهجين آلة الطبل الجمع بين الأصوات مذهلة، وتدفق العمل وأدوات إبداعية من محرك برامج سبارك، مع وحدة تحكم البريق عالية الجودة وسوف تحصل على 4 حزم توسيع التي هي إضافات تحميل مجموعات اضافية في صناعة البرمجيات البريق الخاص. في النهاية أنها سوف تسمح لك لاستخدام 120 مجموعات جديدة ذات جودة عالية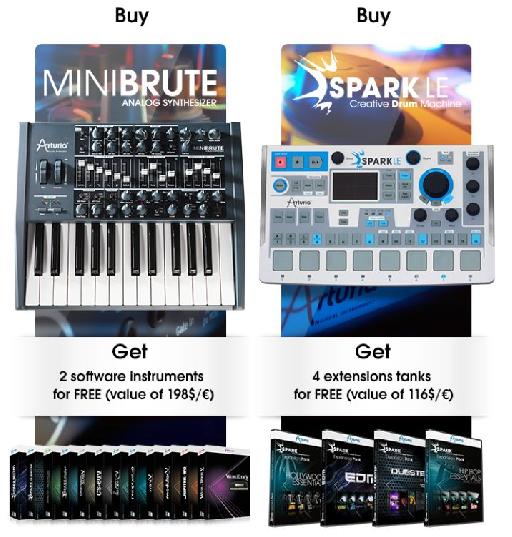 تكون سريعة: يتم المخزونات محدودة، لذلك النظام على شبكة الإنترنت الآن في متجر Arturias عبر الإنترنت ( http://www.arturia.com/evolution/en/buy/holiday_season_deal/ ) أو قم بزيارة تاجر ارتورياوسبق المحلية!