Arturia announces Holiday season deals throughout November and December 2013. Pick up and Minibrute or SparkLE and get some instruments/packs for free!
Musik-Software und Hardware-Unternehmen
Kaufe ein Minibrute erhalten 2 Software-Instrument kostenlos - kaufen unsere revolutionäre, oft ausgezeichnet und 100% analoger Synthesizer und du wirst in der Lage sein 2 Software-Instrumente in einer Liste von 12 Instrumenten wählen (Um Sie durch Download geliefert werden.)
Kaufe ein Funkeln Drum Maschine erhalten Sie 4 Erweiterungen kostenlos - Kaufen Sie unsere neuesten SparkLE Hybrid Drumcomputer Kombination der fantastische Sound, Workflow und Kreativ-Tools von Spark Engine Software mit der hohen Qualität SparkLE Controller und Sie werden 4 Expansion Packs, sind erhalten Add-ons zusätzliche Be-Kits in Ihre SparkLE Software. Am Ende können Sie 120 hochwertige neue Kits verwenden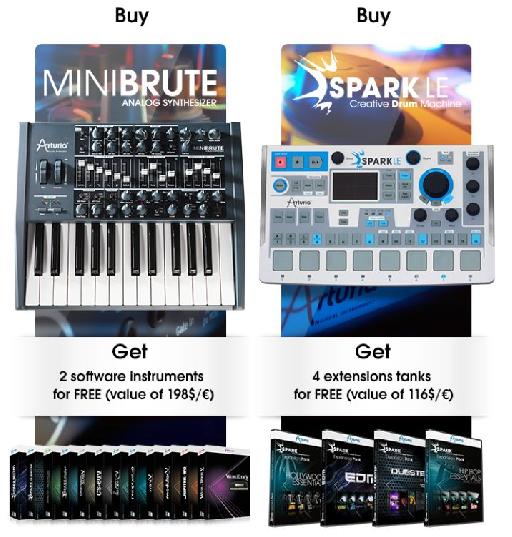 Seien Sie schnell: Aktien sind begrenzt, so jetzt online bestellen bei Arturias Online-Shop ( http://www.arturia.com/evolution/en/buy/holiday_season_deal/ ) oder besuchen Sie Ihren lokalen Arturia Händler!