Arturia announces Holiday season deals throughout November and December 2013. Pick up and Minibrute or SparkLE and get some instruments/packs for free!
Software de música y la compañía de hardware
Compra un MiniBrute obtener 2 instrumentos de software gratis - Comprar nuestro revolucionario, a menudo otorgan y 100% sintetizador analógico y usted será capaz de elegir 2 instrumentos de software en una lista de 12 instrumentos (Para ser entregado a usted a través de descarga.)
Compra una caja de ritmos Sparkle conseguir 4 packs de expansión de forma gratuita - Comprar nuestra última caja de ritmos híbridos Sparkle combinar los sonidos increíbles, flujo de trabajo y las herramientas creativas del software del motor de chispa, con el controlador de chispa de alta calidad y obtendrá 4 packs de expansión que son complementos carga kits adicionales a su software Sparkle. Al final, le permitirá utilizar 120 nuevos kits de alta calidad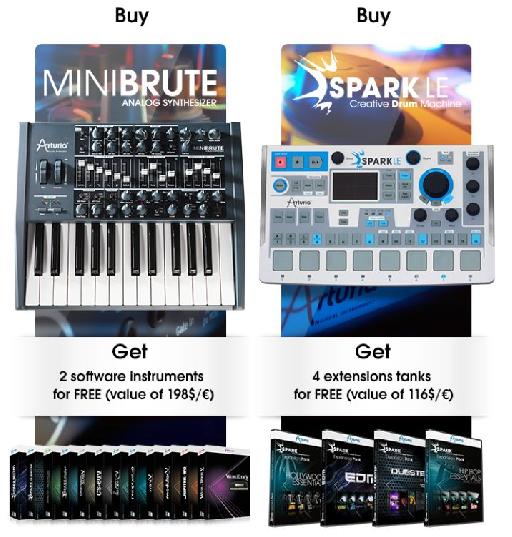 Sé rápido: stocks son limitados, por lo que compra en línea ahora en Arturias Tienda online ( http://www.arturia.com/evolution/en/buy/holiday_season_deal/ ) o visite a su distribuidor local Arturia!