Arturia announces Holiday season deals throughout November and December 2013. Pick up and Minibrute or SparkLE and get some instruments/packs for free!
logiciel de musique et société de matériel
Achat d'un Minibrute obtenir 2 instrument logiciel gratuitement - Acheter notre révolutionnaire, souvent récompensé et 100% synthétiseur analogique et vous serez en mesure de choisir 2 instruments logiciels dans une liste de 12 instruments (Pour être livré à vous par téléchargement.)
Acheter une machine à tambour Sparkle obtenir 4 packs d'extension gratuitement - acheter nos derniers éclat drum machine hybride combinant les sons étonnants, des flux de travail et des outils de création du logiciel de moteur de Spark, avec le contrôleur d'éclat de haute qualité et vous obtiendrez 4 packs d'extension qui sont add-ons chargement kits supplémentaires dans votre logiciel d'étincelle. En fin de compte, il vous permettra d'utiliser 120 nouveaux kits de haute qualité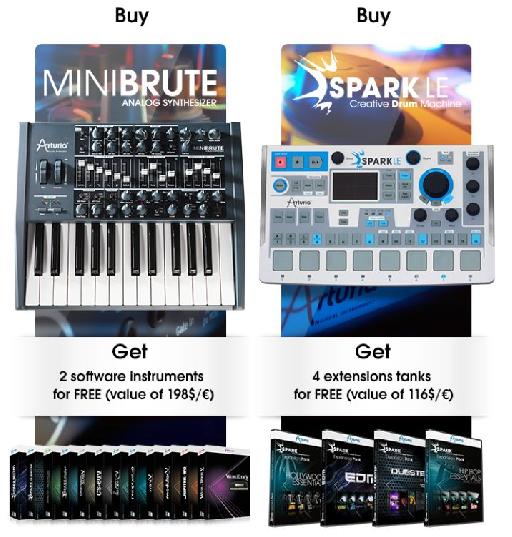 Soyez rapide: les stocks sont limités, alors commandez en ligne à Arturias boutique en ligne ( http://www.arturia.com/evolution/en/buy/holiday_season_deal/ ) ou visitez votre concessionnaire Arturia local!