Arturia announces Holiday season deals throughout November and December 2013. Pick up and Minibrute or SparkLE and get some instruments/packs for free!
Software Musica e società di hardware
Acquistare una Minibrute arrivare strumento software 2 gratis - Acquista il nostro rivoluzionario, spesso aggiudicati e sintetizzatore analogico al 100% e si sarà in grado di scegliere due strumenti software in una lista di 12 strumenti (da consegnare a voi attraverso il download.)
Acquistare una drum machine SparkLE ottenere 4 pacchetti di espansione gratis - Acquista il nostro ultimo SparkLE drum machine ibrida che combina i suoni incredibili, il flusso di lavoro e gli strumenti creativi del software del motore Spark, con il controller SparkLE alta qualità ed otterrete 4 pacchetti di espansione che sono componenti aggiuntivi di carico kit aggiuntivi nel vostro software brillare. Alla fine vi permetterà di utilizzare 120 nuovi kit di alta qualità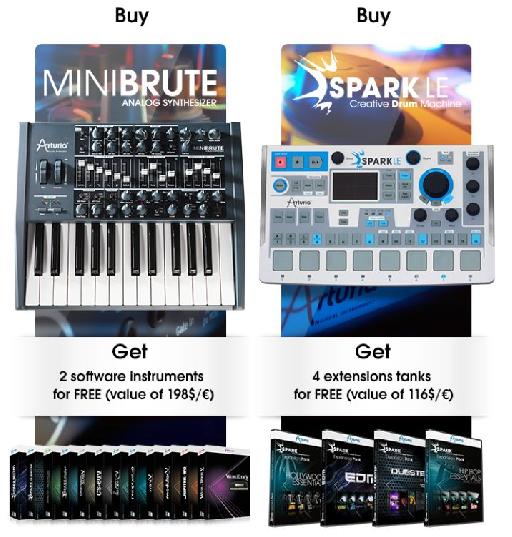 Sii veloce: gli stock sono limitati, quindi ordine online presso Arturias negozio online ( http://www.arturia.com/evolution/en/buy/holiday_season_deal/ ) o visitare il rivenditore locale Arturia!