Arturia announces Holiday season deals throughout November and December 2013. Pick up and Minibrute or SparkLE and get some instruments/packs for free!
음악 소프트웨어 및 하드웨어 회사
(. 다운로드를 통해 여러분에게 ì "달하기 위해) 우리가 혁명, 자주 수여 및 100 % ì•"ë' 로그 ì‹ ë""ì'¬ì´ì €ì™€ 12 악기 목록에서 소프트웨어 악기를 ì" íƒí•  수 있습니다 구매 - Minibrute 무료로 2 소프트웨어 악기를 얻을 구매
ê³ í'ˆì§ˆ 스파클 컨트롤러가 놀라운 소리, ìž'ì—… 흐름 및 스파크 엔진 소프트웨어 디자인 툴을 결합의 ìµœì‹  스파클 하이브리드 드럼 ë¨¸ì‹ ì" êµ¬ìž…í•˜ê³  ë‹¹ì‹ ì´ 4 확장 팩을 얻을 것이다 - 불꽃 드럼 ë¨¸ì‹  무료 4 확장 팩을 구입 귀하의 불꽃 소프트웨어에 추가 키트를로드하는 기능을 추가합니다. ê²°êµ­ ë‹¹ì‹ ì´ 120 ê³ í'ˆì§ˆ 새로운 키트를 ì'¬ìš©í•  수 있도록합니다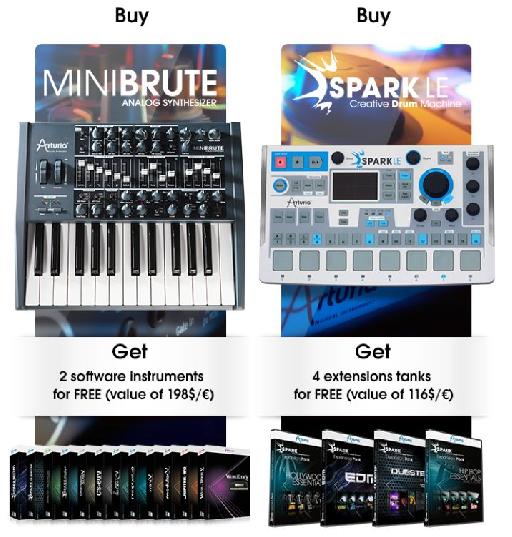 빨리 : 주식은, 온라인 ì´ë ‡ê²Œ 지금 주문 Arturias 온라인 ìƒì  (에 ì œí•œë©ë‹ˆë‹¤ http://www.arturia.com/evolution/en/buy/holiday_season_deal/ ) 또는 해당 지역의 Arturia 딜러를 방문합니다!