Arturia announces Holiday season deals throughout November and December 2013. Pick up and Minibrute or SparkLE and get some instruments/packs for free!
Software de música e empresa de hardware
Compre um Minibrute obter duas instrumento software de graça - Compre o nosso revolucionário, muitas vezes premiado e 100% sintetizador analógico e você será capaz de escolher dois instrumentos de software em uma lista de 12 instrumentos (para ser entregue a você através de download.)
Comprar uma bateria eletrônica brilho obter quatro pacotes de expansão para livre - Compre o nosso último brilho drum machine híbrido que combina os sons incríveis, fluxo de trabalho e ferramentas criativas do software de ignição do motor, com o controlador de brilho de alta qualidade e você terá quatro pacotes de expansão que são add-ons carregamento kits extras em seu software de brilho. No final, ele irá permitir que você use 120 de alta qualidade novos kits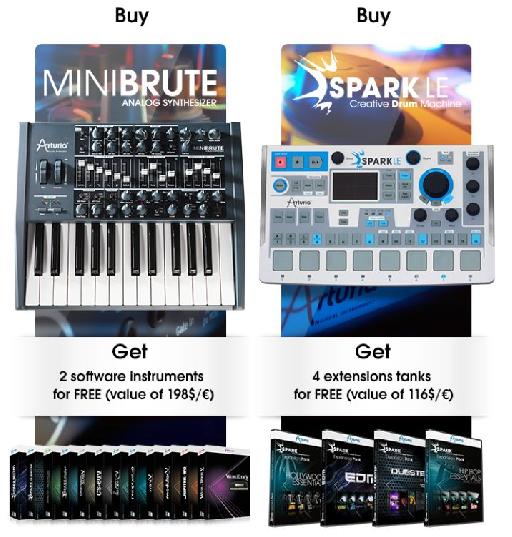 Seja rápido: os estoques são limitados, por isso pedido on-line agora em Arturias online shop ( http://www.arturia.com/evolution/en/buy/holiday_season_deal/ ) ou visite o seu concessionário Arturia local!