Eventide's recent Anthology X bundle includes the H3000 Band Delays plug-in... and now it is available outside of the bundle for just $99 until December 31st 2015. Check out the videos for more info.
Little Ferry, NJ - Today Eventide announced the release of the H3000 Band Delays plug-in for AAX, VST, and AU. This unique multi-effect plug-in, originally included in Eventide's Anthology X bundle, is on sale for $99 until December 31, 2015. (Normally priced at $199.)
Engineers, producers and musicians, have called Band Delays one of the 'secret weapons' of Eventide's H3000 Ultra-Harmonizer thanks to its ability to create sounds never before possible. This plug-in version carries this legacy forward.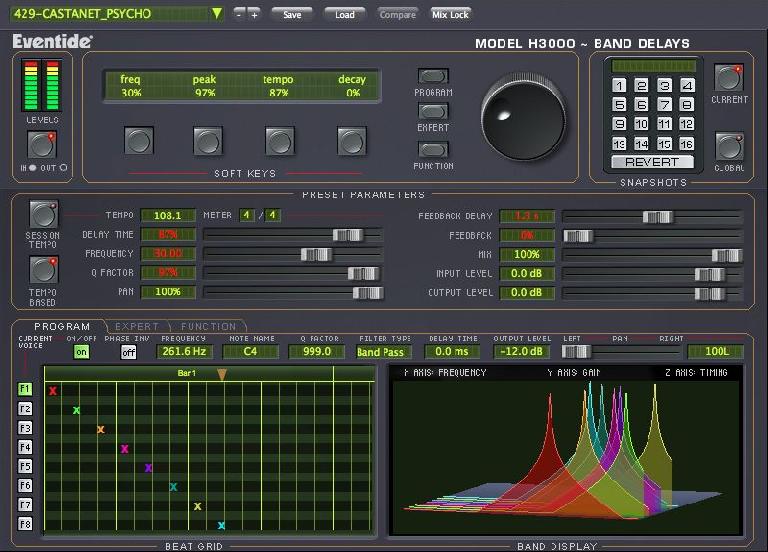 Band Delays will take any instrument or vocal and dice and slice it in both time and frequency creating up to 8 distinct voices defined by frequency, resonance, filter type, delay time, volume and panning. No other plug-in on the market can transform your drums, guitars or vocals quite like this.
But here's the fun part. Since each parameter can be automated and manipulated in real time via MIDI, you can play the effect like an instrument using a keyboard controller to create unheard of musically rhythmic results. Alternately, you can use the powerful H3000 Function Generator to build automated complex movement synced to the beat.
"With the release of our Anthology X bundle, a number of users asked that Eventide consider unbundling Band Delays," commented Nalia Sanchez. "We listened."
The 80 included presets offer a wide-range of starting points for this powerful and unique effect. Fully functional 30-day demo version is available. Visit eventideaudio.com more information.
Specifications:
Mac OSX 10.7+, Windows 7 & 8; AAX, AU, VST; no iLok dongle required.