Eventide's recent Anthology X bundle includes the H3000 Band Delays plug-in... and now it is available outside of the bundle for just $99 until December 31st 2015. Check out the videos for more info.
Little Ferry, New Jersey - Heute Eventide verkündete die Freigabe der H3000 Band Delays Plug-In für AAX, VST und AU. Diese einzigartige Multi-Effekt-Plug-in, das ursprünglich im Eventide enthalten
Ingenieure, Produzenten und Musikern, haben Band namens Verzögert eine der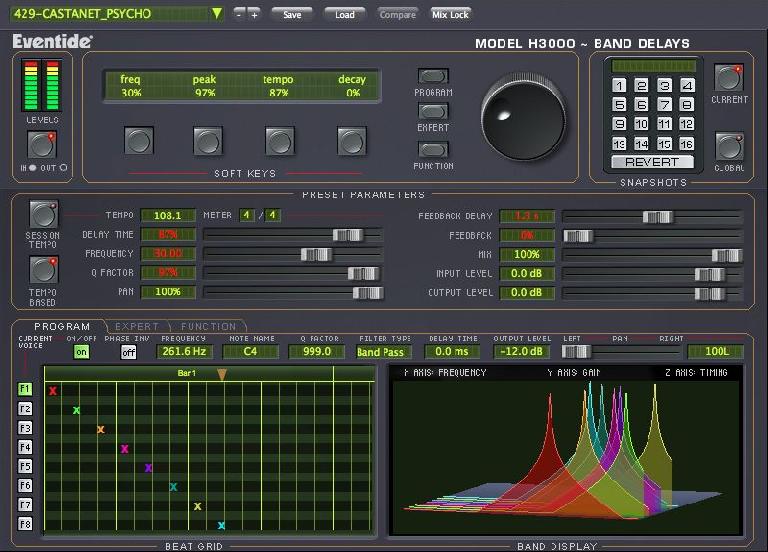 Band Delays wird ein Instrument oder Gesang und Würfel nehmen und in Scheiben schneiden sie in Zeit und Frequenz zu schaffen bis zu 8 verschiedene Stimmen von Frequenz, Resonanz, Filtertyp, Verzögerungszeit, Lautstärke und Panning definiert. Kein anderer Plug-in auf dem Markt können Sie Ihre Schlagzeug, Gitarren oder Vocals ganz davon zu verwandeln.
Aber hier
Die 80 mitgelieferten Presets bieten eine breite Palette von Ausgangspunkte für diese leistungsstarke und einzigartige Wirkung. Voll funktionsfähige 30-Tage-Demo-Version verfügbar ist. Besuchen eventideaudio.com weitere Informationen.
Technische Daten:
Mac OSX 10.7, Windows 7