Expert Sleepers FH-1 Eurorack Anschluss mit MIDI-Controllern, Launch Bedienelemente und iPads
Building up to NAMM comes a rather exciting announcement from Expert Sleepers. Their new FH-1 "faderhost" Eurorack module connects USB MIDI controllers to a modular synth. Watch the videos below.
Die FH-1 'faderHost' ist ein USB MIDI-Host in einem 8HP Eurorack-Modul, mit dem Sie direkt mit einem USB-MIDI-Controller, um Ihren modularen Synthesizer.
Mit einer geeigneten Anschlussbox (zB diese ) "USB-MIDI-Controller" umfasst hier ein iPad oder das gute alte Computer.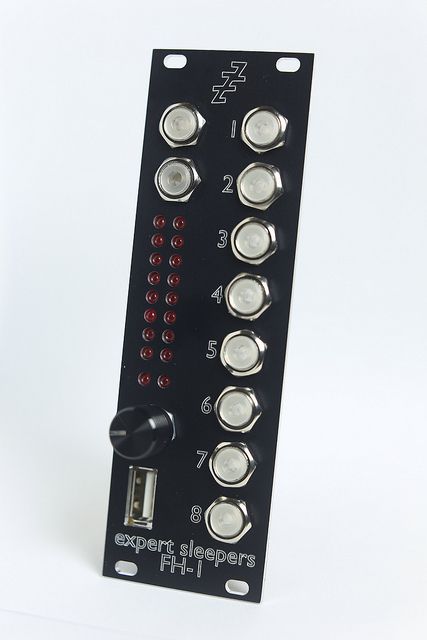 Expert Sleepers FH-1.
Neben einfachen Direktsteuerung der Ausgangs Lebensläufe von MIDI CCs, die FH-1 auch Angebote
LFO auf jeder Ausgabe

Step-Sequenzer

Polyphone MIDI / CV Umwandlung

und vieles mehr

mit einem Faderfox UC3:
mit einem Korg NanoKey:
mit einem LaunchControl XL:
mit einem iPad mit TouchOSC:
Vorläufige Daten
Der FH-1 vorläufigen Spezifikationen sind wie folgt (Änderungen vorbehalten):
Plattenbreite: 8HP

Modultiefe: 43mm

Stromaufnahme: 70mA auf der 12V-Schiene, 30 mA auf der 12V Schiene (100 mA gesamt)
plus der Leistungsbedarf der angeschlossenen USB-Vorrichtung.

Ausgänge: 8

Digital-Analog-Wandlung: 14 Bit

Spannungsbereich: Steckbrücke wählbar zwischen 5 V, 0-10 V, 0-5 V

Eingänge: 2 digitale Eingänge für Uhren usw.

USB-Buchse: Typ A

Die Frontplatte ist sowohl für Doepfer und Analog-Systeme Montagebohrungen (mit einem "Slot" und nicht ein einziges rundes Loch). Der Netzanschluss ist ein Doepfer Standard 10 so IDC, mit -12 V am weitesten von der Spitze des Vorstandes.
Preise
Die FH-1 wird auf der NAMM Show, Januar 2015 vorgestellt werden und wird voraussichtlich rund April 2015 zur Verfügung stehen.
Web: