Expert Sleepers FH-1 Eurorack connecte avec les contrôleurs MIDI, Lancez Commandes et iPads
Building up to NAMM comes a rather exciting announcement from Expert Sleepers. Their new FH-1 "faderhost" Eurorack module connects USB MIDI controllers to a modular synth. Watch the videos below.
Le FH-1 'faderHost' est un MIDI USB Host dans un module Eurorack 8HP, vous permettant de connecter directement un contrôleur MIDI USB à votre synthétiseur modulaire.
Utilisation d'une boîte de connecteur approprié (par exemple cette ) "de contrôleur MIDI USB" ici comprend un iPad ou ancien ordinateur plaine.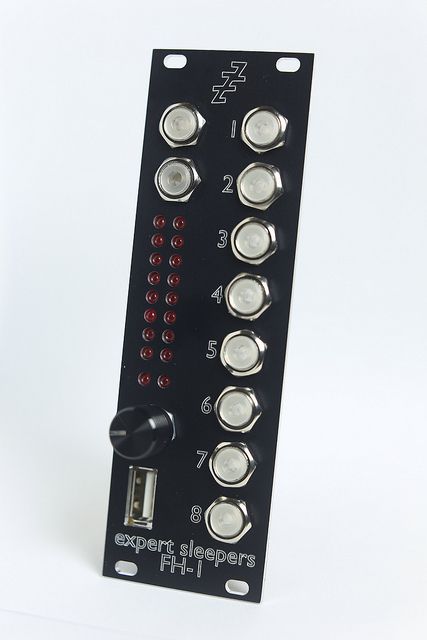 Expert Sleepers FH-1.
Ainsi que le contrôle simple et directe des CV de sortie de CC MIDI, le FH-1 a également offres
LFO sur chaque sortie

séquenceurs Step

Polyphoniques MIDI / conversion de CV

et beaucoup plus

avec un Faderfox UC3:
avec un Korg NANOKEY:
avec un LaunchControl XL:
avec un TouchOSC fonctionnement iPad:
Spécifications préliminaires
Spécifications préliminaires de la FH-1 sont les suivants (sous réserve de modifications):
Largeur du panneau: 8HP

profondeur de Module: 43mm

Consommation de courant: 70mA sur le rail 12V, 30mA sur le rail de 12V (100mA total)
ainsi que la demande de puissance du périphérique USB connecté.

Sorties: 8

Numérique-analogique conversion: 14 bits

Plage de tension: cavalier sélectionnée entre 5, 0-10 V, 0-5 V

Entrées: 2 entrées numériques pour les horloges etc.

prise USB: Type A

Le panneau avant est percé à la fois analogiques et Doepfer Systems trous de montage (en utilisant un "créneau horaire" plutôt que d'un simple trou rond). Le connecteur d'alimentation est un standard de 10 Doepfer façon IDC, avec le plus -12V à partir du haut de la planche.
Établissement des prix
Le FH-1 sera dévoilé au NAMM, Janvier 2015, et devrait être disponible vers Avril 2015.
Web: