Especialista Sleepers FH-1 Eurorack Conecta com controladores MIDI, Lançamento de Controles e iPads
Building up to NAMM comes a rather exciting announcement from Expert Sleepers. Their new FH-1 "faderhost" Eurorack module connects USB MIDI controllers to a modular synth. Watch the videos below.
O FH-1 'faderHost' é um anfitrião MIDI USB em um módulo 8HP Eurorack, permitindo que você conecte diretamente um controlador MIDI USB para o seu sintetizador modular.
Usando uma caixa de conector adequado (por exemplo esta ) "controlador MIDI USB" aqui inclui um iPad ou simples computador antigo.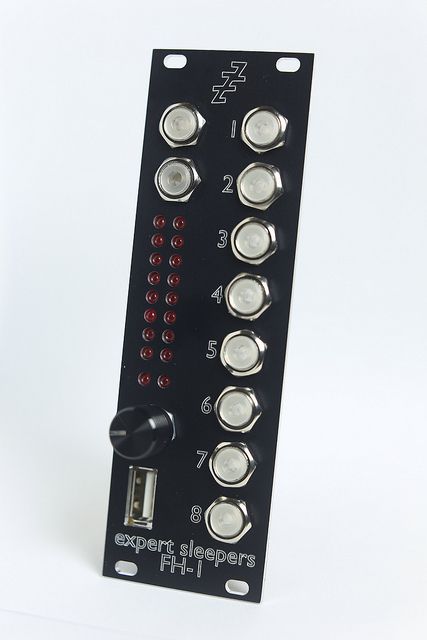 Especialista Sleepers FH-1.
Bem como o controle simples direta dos currículos de MIDI CCs, o FH-1 também oferece uma saída
LFOs em cada saída

Passo sequenciadores

Polyphonic MIDI conversão / CV

e muito mais

com um Faderfox UC3:
com um Korg nanoKEY:
com um LaunchControl XL:
com um TouchOSC running iPad:
Especificações preliminares
Especificações preliminares do FH-1 são os seguintes (sujeito a alterações):
Width Painel: 8HP

Profundidade Módulo: 43 milímetros

Consumo de corrente: 70mA no trilho 12V, 30 mA no trilho 12V (100mA total)
mais a exigência de energia do dispositivo USB conectado.

Saídas: 8

Digital-analógico conversão: 14 bit

Faixa de tensão: selecionável jumper entre 5V, 0-10V, 0-5V

Entradas: 2 entradas digitais para relógios etc.

Tomada USB: Tipo A

O painel frontal é perfurado para ambos Doepfer e analógicas Sistemas furos de montagem (usando uma 'fenda' ao invés de um único furo redondo). O conector de alimentação é um Doepfer padrão de 10 maneira IDC, com mais distante 12V a partir do topo da placa.
Preço
O FH-1 será apresentado no show NAMM, em janeiro de 2015, e é esperado para estar disponível por volta de Abril de 2015.
Web: