FREE: Logic Pro Synth Presets: Mixed Bag, Vol.1
And we're half way through our Xmas Gift giveaway on Day #4. If you're a Logic user, then this one is for you. Download these free synth presets now. Simply login or sig up for free to do it.
Here's a little mixed bag of Software Instrument presets for Logic X. You can of course tweak these to your liking and assign any parameters to Smart Controls if you want. These are the kind of general sounds I'd build for myself. From basic traditional things to some weirder textural stuff all using Logic's native plugins.
Download Logic Pro synth presets here

Instructions:
Place them in the following folder:

~/Library/Application Support/Logic/Channel Strip Settings/Instrument/

Launch Logic and create a new Software Instrument Track.

Click-hold on the Channel Strip Settings button for the SI channel strip and choose one of the delicious new presets and play, play, play.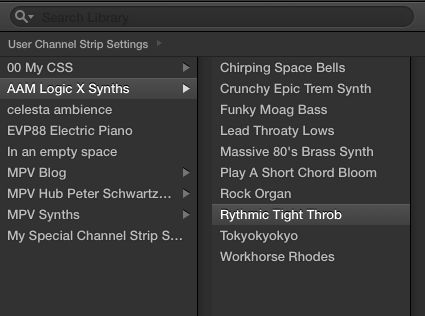 This is what the library view looks like when you navigate to the correct folder:
User Channel Strip Settings > AAM Logic X Synths