Get Full Access To The AskAudio Course Library For 60% Off In The Analog April Sale
Get year-long access to the entire Ask Audio Academy video course library for a seriously great price during April
Here at Ask.Audio we've got the world's largest online music production & audio skills video course library. The Ask.Audio Academy has over 705 unique audio courses, with more being added weekly! And the topics we cover run the length and breadth of the audio world.
Check out the Analog April Sale here.
You'll find valuable advice from professional producers, musicians and trainers on a host of DAWs, instruments, techniques and specialist subjects. Ranging from the basics of recording audio and MIDI through to advanced scoring, mastering and DJ performance – plus lots more!
Get a 1 year pass for just $72 now! (normally $180)
Don't want to commit for one year? No problem. We're offering 1 month passes for just $9 (normally $15)
What Do I Get?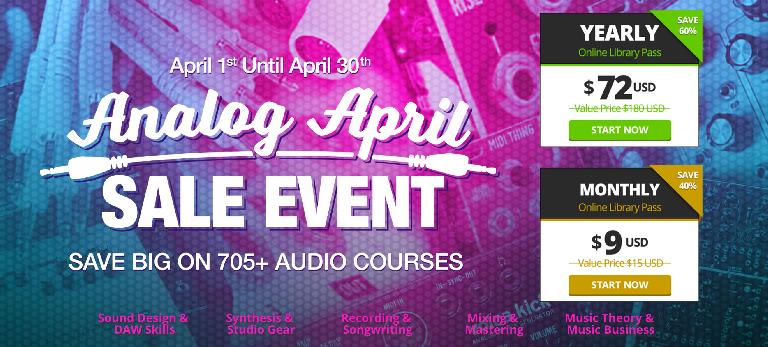 You'll find courses on all manner of audio software and hardware, gear, techniques and performance including:
Sound Design & DAW Skills
Synthesis & Studio Gear
Recording & Songwriting
Mixing & Mastering
Music Theory & Music Business
Instant Access
It's all done online across all your devices and you can access your tutorials wherever and whenever you want. The training is brought to you by pro experts with years of experience who know how musicians and producers think, and how best to communicate the techniques and tools you need.
Each tutorial and course is like being in the studio with the trainer showing you their personal tips, tricks and techniques in a bite-sized, easy to digest video.
Normally a 1 year pass to The Academy is $180, but you can get one for just $72 in the Analog April Sale! (Alternatively get a 1 month pass for just $9, normally $15).