Martin Sitter, the CEO of Ask.Audio, AskVideo.com & macProVideo.com, discuses the new Ask.Audio website, it's best features, and the new Ask.Audio Academy.
Hey there, it's Martin writing …
Welcome to the new Ask.Audio (formerly AskAudioMag.com). Yes, that's just Ask.Audio … no ".com" required. We've embraced the new top level domains, because we are a top level audio news and education portal. It's new, and in some ways it's hard to understand … but it's also the future, and at Ask.Audio, we like to embrace new technology.
The New Website
Around 15,000 people visit AskAudioMag.com every day. If you're one of them, you can see something's changed around here. Yes, you were automatically redirected to Ask.Audio … that's because AskAudioMag.com is no longer active.
This new site is designed to make it easier to find and read the news you're looking for. The most obvious change is to our home page and search results. They are both now organized as an article roll that makes it easier to see at a glance what and article is about, before you click through to it. We've also put a higher focus on the graphics and images, because we think you find HD photos of new audio gear to be as visually-titillating as we do.
New Navigation Features
My favourite addition to the new design is the Next and Previous Article buttons. These new navigation items will pop out to show an article you might be interested in. You can click through articles like you're playing chat-roulette, until you find something you want to look at. It's almost addictive - try it out.
The Ask.Audio Academy
We've added an online school to our service. The Ask.Audio Academy is stocked with 100% Audio focused online courses from AskVideo.com and macProVideo.com. And ONLY audio courses. Starting at just $10 a month, you can use the Ask.Audio Academy to learn new music production skills, mixing and mastering techniques, and more.
Visit the Ask.Audio Adademy - Click Here!
We are here to help you be a better artist. The Ask.Audio Academy is already the largest audio skills library on the planet, and it's only going to get better. This is an incredible resource for you to use, but don't take my word for it - you can click around and watch the preview videos for each course for free. Trying the Ask.Audio Academy is the best way to understand it's power, so be sure to check it out!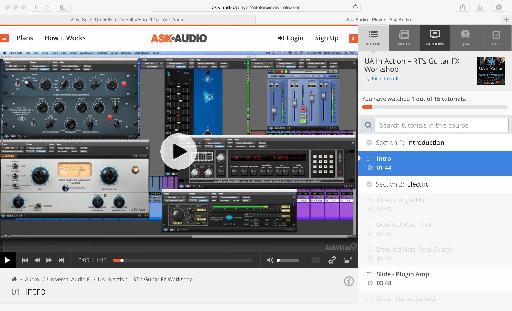 Enhanced Article Layouts
We're no longer just a blog roll. We've put a lot of time and effort into creating some truly beautiful page layouts, like the new "Feature Article" you're reading now. This ain't your average parallax plugin … we spent months hand-coding this layout and enhancing it with features that will keep articles looking fresh every time you visit. Expect to see more new article layouts as the month's go by!
To see the true power and beauty of our new article pages, check out this Feature Interview with Mega-DJ Sasha:
R.I.P - The Print Magazine
Late in 2014 Rounik and I sat down to think about the future. In just 2 years, AskAudioMag had become one of the largest online audio news portals in the world, but we also had a problem. We were based around a print magazine. As everyone knows, print doesn't pay. Although our readers were passionate about the magazine, advertisers were not.
Reading magazines like Future Music, Computer Music, and Sound On Sound in the 90's, I always thought it would be really cool to make my own mag. I thought I could do it better. So I did. With over 6,000 copies of each issue direct mailed to subscribers, and many thousands more sold in stores, AFAIK we were the most widely-read of all the competing print periodicals. I loved AskAudio magazine because it taught people how to make better music, it gave us a certain panache in the community, and it helped us make relationships with manufacturers that would have been hard to forge, otherwise - but above all else, I loved it because it was the realization of a dream … of course, reality always overtakes dreams at some point. I just simply could no longer afford to keep it running.
But saying goodbye to that dream has opened the door to another one. My new dream is to run the most popular Audio News Portal on the internet. And I'm going to do it …
If you are a paid magazine subscriber, Contact Us. We'll work out either a refund or a barter for Academy Courses to make up for any outstanding portions of your subscription.
In Conclusion
We exist to help you become a better computer user, a more skilled musician, and a more educated individual in the world of sound design and production. This world is our passion, and we are happy and excited each and every day to do this job.
The new Ask.Audio presents our vision of how to do this. We hope you will come to enjoy reading Ask.Audio as much as we enjoy publishing the News, Reviews, Interviews, Tips & Tricks Tutorials, and Full Length Online Courses that make Ask.Audio the Internet's Premier Audio Education Portal.
Come back often, because there's always something new to learn at Ask.Audio!
Martin Sitter: CEO - Ask.Audio