In Session Audio releases Fingerstyle Folk Acoustic Guitar for Kontakt, Acid Wav, Apple Loop, REX, Stylus RMX & Wav formats. Check out the audio and video below.
Fingerstyle Folk Akustikgitarre ist ein Loop-Bibliothek mit den Klängen und fühlt sich von den 1960er bis Neo-Folk Stile von heute.
Schöne Akkord und die verschlungenen Klang von zwei Gitarren spielen an verschiedenen Orten auf dem Hals Hilfe ein breites Spektrum an musikalischen Stimmungen zu schaffen.
Mit hervorragenden Leistungen, Naturaufnahmen und einer großen Auswahl an Toolbox Loops, ist Fingerstyle Folk Akustikgitarre zum Songwriter und Komponisten gleichermaßen gut geeignet.
Producers Hinweise:
Angefangen von Dylan, Peter, Paul and Mary, Phil Ochs zu Simon and Garfunkel, deckt diese Sammlung all die unterschiedlichen Volks Stile, die seit Jahrzehnten beliebt sind.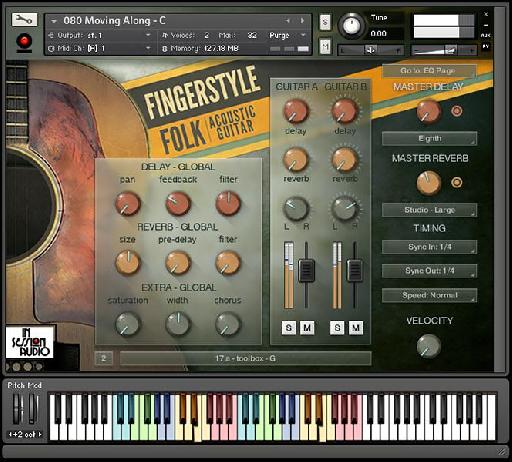 In Session Audio Fingerstyle Folk Akustikgitarre.
Jede Suite besteht aus zwei verschiedenen akustischen Gitarren spielen einmal durch das Hauptthema.
Die in dieser Sammlung verwendet Gitarren waren eine Bedell MB 17G, ein Bedell OH 18GS ein Lowden O25C, ein Regal Tricone Messing-bodied Resonator und einem Goldton Holz-bodied Resonators.
Alle Gitarren wurden in Stereo mit zwei Neumann KM 184 Mikrofone in einem Benchmark PRE420 Preamp aufgezeichnet. "
Spezifikationen:
Größe: ca. 1,25 GB für jedes Format, wenn nicht komprimiert; inklusive der Bonus-Set.

Parts: 432; inklusive der Bonus-Set

Sound: Dry (kein Hall). Kontakt Benutzer ein Menü der Reverb-Typen und andere Effekte, die angewendet und modifiziert werden können.

Kopiergeschützt: Benutzerdefinierte Wasserzeichen

Qualität: Stereo 24 Bit 44,1 kHz

Verfügbare Formate: Kontakt, Apple Loops, Säure Wav, REX, Stylus RMX, WAV.

Anforderungen: Der Kontakt-Format der Bibliothek erfordert die Vollversion von Native Instruments Kontakt 5.1 oder höher.

Der freie Kontakt Player wird nicht empfohlen, da es ermöglicht, nur 15 Minuten Einsatz bevor eine Zeitüberschreitung.
Das Installationsprogramm erfordert eine Internet-fähigen Computer und Windows XP oder höher bzw. Mac 10.5 oder höher.
Soundcloud-Player Code zum Einbinden für Fingerstyle Folk Akustikgitarre

Einführungspreis: $ 69,99 USD

Jetzt als Download unter:
http://insessionaudio.com/products/fingerstyle-folk-acoustic-guitar