KiloHearts lanzamiento GRATIS Snap montón de plug-in para la modulación avanzada de enrutamiento y de gran alcance
To fit in nicely with Snapin, Kilohearts' modular effects plugin software, they've kindly released a new reverb. And it's free! There's also lots of updates to existing snap in plugins too.
Snap Heap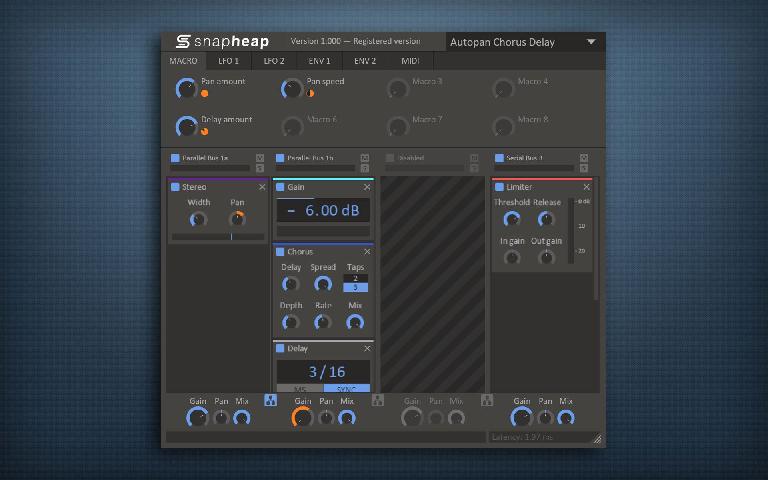 En primer lugar estamos felices de anunciar el lanzamiento de un nuevo plugin totalmente gratuito llamado Snap Montón ! Snap Montón es, al igual que Multipass, un sistema modular que se divierte flujo de trabajo muy fácil y flexible, utilizando nuestra gama de plugins SNAPin. la modulación de enrutamiento avanzado y potente hace que sea muy fácil de cocinar todo tipo de efectos locos, o perfectamente sanos,.
New plugin: Reverb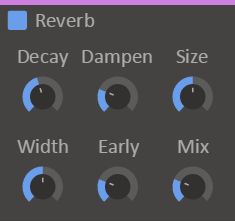 Una de las primeras solicitudes que recibimos después de soltar el sistema de snapin fue la de incluir una reverb. ¡Pide y recibirás! Nuestro nuevo plugin, llamado creativamente "Reverb", es una reverberación simple pero potente, que funciona de maravilla tanto en sí mismo y en combinación con Snap Montón o Multipass.
Plugin updates
kHs ONE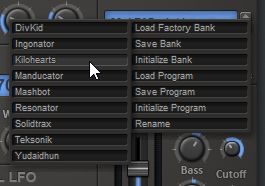 Todos los bancos de presets que antes eran descargable desde nuestra página web se incluyen ahora en kHs UNO desde el principio. Se puede acceder haciendo clic derecho en el campo de nombre preestablecido y seleccionando "Load Factory Banco". Los bancos también se instalan como AU preajustes correctamente, lo que debe hacer para acceder a los ajustes de fábrica de la UA en los hosts como Ableton Live mucho más fácil.
Pitch Shifter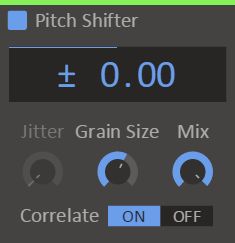 El plugin cambio de tono ahora tiene un interruptor "Correlación". Cuando se activa, los granos se mezclan de una manera más estable, reduciendo efectos de fase de forma espectacular. Una señal no desplazada ahora debe pasar a través totalmente afectado por la palanca de cambios, que antes no era.
Stereo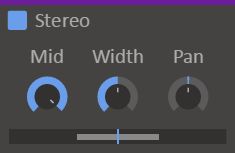 El plug-in estéreo tiene ahora un botón de "Medio", que afecta a la cantidad del contenido de mono atravesado por el plugin. Al girar este mando a cero, todo el contenido de mono se corta y sólo queda el contenido estéreo. Esto es especialmente útil para hacer las cosas como el procesamiento paralelo mono / estéreo en Snap Montón.
All plugins
Nuestra gama completa de plugins han conseguido varios errores menores. Lo más notable fallos gráficos (destellos blancos ocasionales) en Mac ahora debe desaparecer, así como la caída de algunas raras en algunas aplicaciones musicales.
Si anteriormente tenía ningún problema, es probable que no se vea mucho cambio.
In the Crystal Ball
Qué depara el futuro..?
Bueno, tenemos tres plugins más actualmente en pruebas.
Tape Stop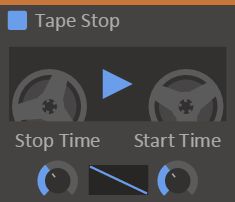 Este plugin simula el sonido de parar el motor de la cinta durante la reproducción. También las ruedas sobre la cinta dan vueltas y vueltas.
Ring Mod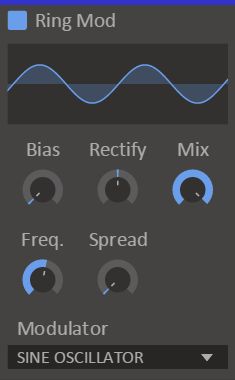 La modulación en anillo es un efecto un tanto esotérica, la multiplicación de dos señales juntas adición de gran cantidad de contenido que no sea armónica. Nuestra interpretación de este efecto puede sonar modular, ya sea con construido en un oscilador, o una entrada externa. ¡Diversión para toda la familia!
Reverser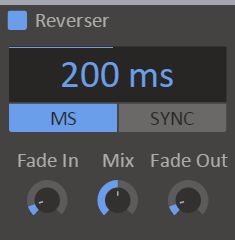 Se trata de una unidad de retardo, segmentar en trozos de la longitud especificada y que juega cada uno de los trozos hacia atrás, produciendo un efecto inverso. En combinación con Multipass esto puede dar resultados etéreos maravillosos!
Eso es todo por ahora ... tenga un buen día!
Web: