Video training just took a revolutionary step forward thanks to the pioneering minds at macProVideo.com! They've just released the world's first Tutorial Player Plugin for Logic Pro X.
macProVideo.com kündigt die Veröffentlichung eines Bildungs-DSP-Plugin entwickelt, um Audio-Produzenten lernen Software und Musikproduktion Fähigkeiten, direkt innerhalb von Logic Pro X. Das neue Plugin, genannt macProVideo Player, ein 64-Bit-Audio-Unit ist plugin speziell für Logic Pro X und andere 64-Bit-Audio DAWs.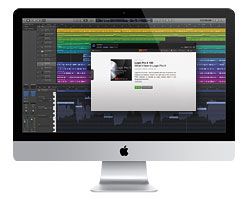 Lernen Logic Pro X INSIDE Logic Pro X - wie cool!
Diese neue Plugin in jedem Kanalzug in Logic Pro X. Nach der Aktivierung eingesetzt werden kann, bietet das Plugin einen direkten Zugang zu einer vollständigen Lehrplan der Kursunterlagen ausschließlich macProVideo erstellt, damit die Benutzer lernen grundlegende Fähigkeiten in der Audio-Produktion, das Aufnehmen, Abmischen, Mastering, und mit den Instrumenten und DSP-Effekte in Logic Pro.
Laut Gründer und CEO, Martin Sitter, "Mehr als nur ein Ausbildungsbetrieb ist macProVideo auch ein Technologie-Unternehmen, dass innovativ. Wir vermitteln nicht nur Technik, wir praktizieren Technologie ernst. Mit unserem neuen Logic Pro X Plugin, wir ' wieder unter Audio Bildung an den Ort, wo man Musik machen -. Ihre DAW "
Die macProVideo Player Plugin für Logic Pro X ermöglicht den Zugriff auf das umfangreiche Bibliothek von Audio-Software und Workflow-Fähigkeiten Kurse. Benutzer können folgen wie professionellen Instruktoren demonstrieren, wie Logic Pro in Produktions-Studio-Umgebungen verwenden. Weil das Plugin fügt in jede Spur in Logic Pro X, gibt es keine Notwendigkeit, einen Web-Browser zu öffnen, um die Website des Unternehmens zu finden, bevor Tutorials von Interesse zu starten. Das Ergebnis ist schneller Lernen, direkt in der Logic Pro X Software selbst.
Zusätzlich zu ihrer ständig wachsenden Bibliothek von Logic Pro X Kurse, die neue Plugin bietet auch eine schnelle Zugang zu allen Online-macProVideo die Kursunterlagen Bibliothek, darunter mehr als 25.000 Tutorials für Native Instruments, Moog, Maschine, Akai, iZotope, Autotune, Waves, Rob Papen , und Dutzende von anderen Audio-Synthesizer, Plugins und Software-Anwendungen.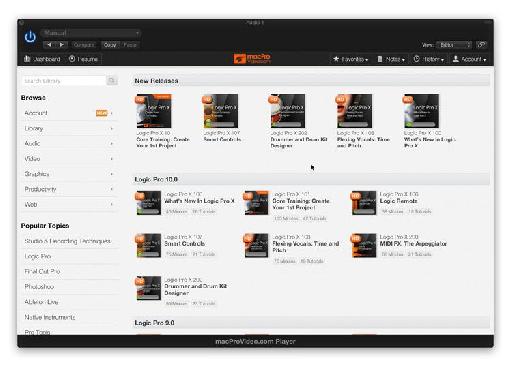 Die macProVideo.com Erfahrung sieht und fühlt sich direkt in Ihrem Lieblings-DAW toll! (Logic Pro X!)
Das neue Plugin ist kostenlos erhältlich direkt von der Website des Unternehmens. Über 2.000 Tutorials sind erhältlich bei der Installation, oder Benutzer können mit einem All-Access-Pass-Bibliothek und mehr als 1.500 Stunden exklusiv Kursunterlagen für nur $ 25 pro Monat zu aktualisieren.
http://www.macprovideo.com/about/daw-plugin