Video training just took a revolutionary step forward thanks to the pioneering minds at macProVideo.com! They've just released the world's first Tutorial Player Plugin for Logic Pro X.
macProVideo.com annonce la sortie d'un plugin DSP éducatif conçu pour aider les producteurs audio acquérir des compétences de production des logiciels et de la musique, directement à l'intérieur de Logic Pro X. Ce nouveau plugin, appelé le joueur macProVideo, est un 64-bit Audio Units plugin spécialement conçu pour Logic Pro X et d'autres DAW audio 64 bits.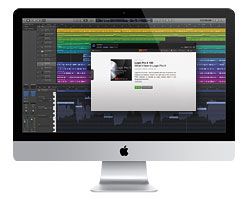 Apprendre Logic Pro X à l'intérieur Logic Pro X - comment cool!
Ce nouveau plugin peut être inséré dans n'importe quel bande de canal dans Logic Pro X. Une fois activé, le plug-in permet d'accéder directement à un programme complet de didacticiels créée exclusivement par macProVideo pour aider les utilisateurs à acquérir des compétences fondamentales dans la production audio, enregistrement, mixage, mastering, et en utilisant les instruments et effets DSP dans Logic Pro.
Selon le fondateur et PDG, Martin Sitter, «Plus qu'une entreprise de l'éducation, macProVideo est également une société de technologie qui innove. Nous n'avons pas seulement enseigner la technologie, nous pratiquons la technologie, sérieusement. Grâce à notre nouveau Logic Pro X plugin, nous re prenant éducation audio à l'endroit où vous faites de la musique - votre DAW ».
Le plugin joueur macProVideo pour Logic Pro X donne accès à une vaste bibliothèque de logiciels audio et des cours de compétences de workflow de l'entreprise. Les utilisateurs peuvent suivre comme instructeurs professionnels montrent comment utiliser Logic Pro dans les environnements de studio de production. Parce insère le plugin dans n'importe quelle piste dans Logic Pro X, il n'ya pas besoin d'ouvrir un navigateur pour lancer le site Web de l'entreprise avant de trouver des tutoriels d'intérêt. Le résultat est un apprentissage plus rapide, directement dans le logiciel Pro Logic X lui-même.
En plus de leur bibliothèque en constante expansion de la logique de golf Pro X, le nouveau plugin fournit également un accès rapide à toute bibliothèque de didacticiels en ligne de macProVideo, y compris plus de 25.000 tutoriels pour Native Instruments, Moog, Maschine, Akai, iZotope, Autotune, Waves, Rob Papen , et des dizaines d'autres synthétiseur audio, plug-in, et les applications logicielles.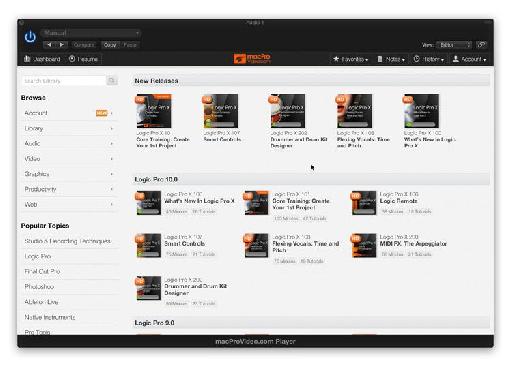 L'expérience macProVideo.com ressemble et se sent bien directement à l'intérieur de votre DAW préféré! (Logic Pro X!)
Le nouveau plugin est disponible gratuitement directement depuis le site de l'entreprise. Plus de 2.000 tutoriels sont disponibles lors de l'installation, ou les utilisateurs peuvent mettre à jour une bibliothèque passer tous les accès et plus de 1500 heures de didacticiels exclusive pour seulement 25 $ par mois.
http://www.macprovideo.com/about/daw-plugin