Video training just took a revolutionary step forward thanks to the pioneering minds at macProVideo.com! They've just released the world's first Tutorial Player Plugin for Logic Pro X.
macProVideo.com anuncia o lançamento de um plug-in DSP educacional projetado para ajudar os produtores de áudio aprender software e música habilidades de produção, diretamente dentro do Logic Pro X. Este novo plugin, chamado o jogador macProVideo, é um 64-bit Audio Units plugin projetado especificamente para Logic Pro X e outros 64 bits DAWs áudio.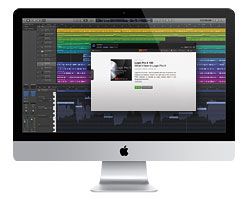 Aprender Logic Pro X DENTRO Logic Pro X - o quão legal!
Este novo plugin pode ser inserido em qualquer faixa de canal no Logic Pro X. Uma vez ativado, o plugin permite o acesso directo a um currículo cheio de material didático criado exclusivamente por macProVideo para ajudar os usuários a aprender habilidades fundamentais na produção de áudio, incluindo gravação, mixagem, masterização, e utilizando os instrumentos e efeitos DSP em Logic Pro.
De acordo com o fundador e CEO, Martin Sitter, "Mais do que apenas uma empresa de educação, macProVideo também é uma empresa de tecnologia que inova. Nós não apenas ensinar tecnologia, prática de tecnologia, a sério. Com o nosso novo Logic Pro X plugin, que ' está levando a educação de áudio para o lugar onde você faz música -. sua DAW "
O plug-in do Jogador macProVideo para Logic Pro X oferece acesso a uma extensa biblioteca de software de áudio e fluxo de trabalho cursos de habilidades da empresa. Os usuários podem acompanhar como instrutores profissionais demonstram como usar o Logic Pro em ambientes de estúdio de produção. Porque o plugin insere em qualquer faixa em Logic Pro X, não há necessidade de abrir um navegador web para lançar o site da empresa antes de encontrar tutoriais de interesse. O resultado é o aprendizado mais rápido, diretamente dentro do Logic Pro X software em si.
Além de sua biblioteca sempre em expansão dos cursos Logic Pro X, o novo plugin também oferece acesso rápido a toda a biblioteca, cursos on-line do macProVideo, incluindo mais de 25.000 tutoriais para Native Instruments, Moog, Maschine, Akai, iZotope, Autotune, Waves, Rob Papen e dezenas de outros sintetizador de áudio, plugins e aplicativos de software.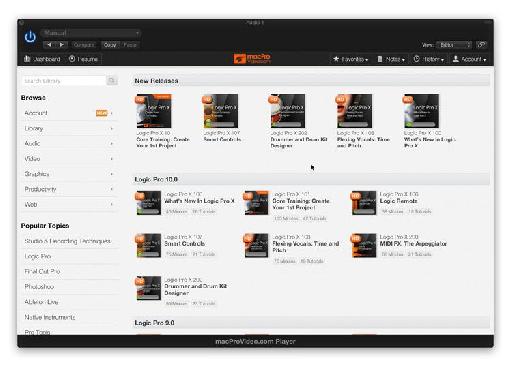 A experiência macProVideo.com olha e sente grande diretamente dentro de sua DAW favorito! (Logic Pro X!)
O novo plug-in está disponível gratuitamente diretamente do site da empresa. Mais de 2.000 tutoriais estão disponíveis mediante a instalação, ou os usuários podem atualizar para uma biblioteca passe de acesso e mais de 1.500 horas de material didático exclusivo para apenas US $ 25 por mês.
http://www.macprovideo.com/about/daw-plugin