M-رمز الصوت السلسلة: MIDI المراقب المالي مع X / Y الوسادة وجميع زركشة
The new Code Series MIDI controllers from M-Audio come in 3 models, all with X/Y controllers, 16 velocity sensitive, assignable pads, highly playable keyboard and much more.
قانون سلسلة لوحات المفاتيح يسلم من بين أعلى فإن الخط الأداء مع المهنية يشعر السرير رئيسي مع حس لمسي تلوي، مجموعات ميزة كاملة جدا، ويتضمن مجموعة من البرامج الحائزة على جوائز، ومع ذلك بأسعار أقل بكثير من ما يمكن عادة أن يتوقع لهذا المستوى من
هل تتمتع الموسيقى من مقطورة؟ قابلناهم الملحن، Histibe، مرة أخرى في فبراير HERE .


مفاتيح حساسة للسرعة مع حس لمسي تلوي

منصات حساسة سرعة 16 مع المصابيح احالة تماما اللون، ملاحظة، والقيم CC

لمس X / Y لوحة للتحكم فريدة من الصك وتأثير الضوابط الافتراضية

USB حافلة تعمل بالطاقة لقابلية وسهولة الاستخدام

5-دبوس الإدخال MIDI والرافعات الناتج تمكنك من التحكم في قشطه المفضلة لديك

الملعب تنازل

لوحة المفاتيح الانقسام مع أربع مناطق احالة للوصول السريع إلى عدة الأدوات الافتراضية في آن واحد

التعبير والحفاظ على المدخلات دواسة

6 أرقام عرض الصمام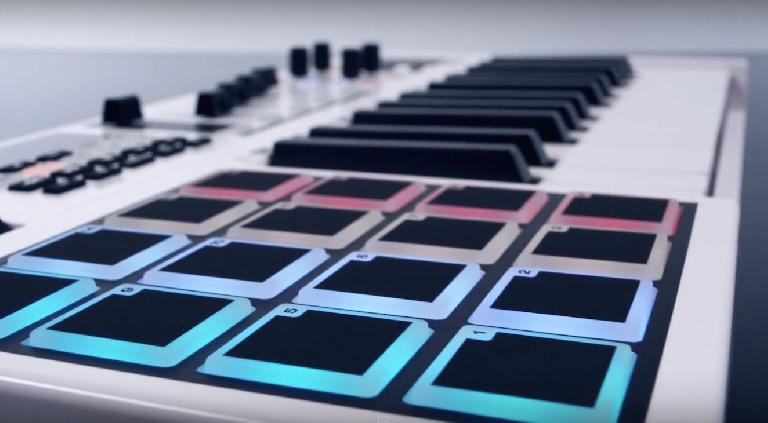 وكذلك لوحة XY، و16 احالة، سرعة الحساسة، RGB منصات الخلفية تبدو مثيرة للإعجاب.
كود السلسلة يأتي في 3 نماذج والسعر الشارع: الرمز 25
على شبكة الإنترنت: