M-Audio Code de série: Contrôleur MIDI avec X / Y Pad et tous les accompagnements
The new Code Series MIDI controllers from M-Audio come in 3 models, all with X/Y controllers, 16 velocity sensitive, assignable pads, highly playable keyboard and much more.
Le Code de la série Claviers offre haut de gamme des performances avec des professionnels sensation lit clé avec aftertouch, ensembles de fonctionnalités très complètes, et comprend un logiciel primé, encore un prix bien en dessous de ce qui pourrait normalement être prévu pour ce niveau de
Avez-vous apprécié la musique du trailer? Nous avons interviewé le compositeur, Histibe, en Février ICI .


touches sensibles à la vélocité avec aftertouch

16 pads sensibles à la vélocité avec LED entièrement assignables de couleur, la note et les valeurs de CC

Touchez pad X / Y pour le contrôle unique de contrôles d'instruments et d'effets virtuels

USB-alimenté par bus pour la portabilité et la facilité d'utilisation

Entrée MIDI 5 broches et prises de sortie vous permet de contrôler vos synthés favoris

Pas assignable

Clavier Split avec quatre zones programmables pour un accès rapide à de multiples instruments virtuels à la fois

Expression et soutenir entrées de pédale

6 chiffres d'affichage LED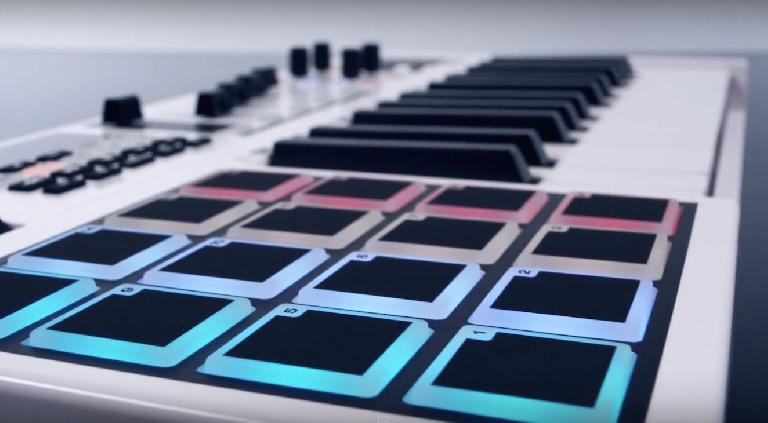 Ainsi que le pad XY, les 16 assignables, sensibles à la vélocité, pads rétro-éclairés RVB impressionnants.
Series Code est disponible en 3 modèles et le prix de la rue est: Code 25
Web: