M-AUDIO 코드 시리즈 : X / Y 패드 및 모ë"  트리밍 미디 컨트롤러
The new Code Series MIDI controllers from M-Audio come in 3 models, all with X/Y controllers, 16 velocity sensitive, assignable pads, highly playable keyboard and much more.
코드 시리즈 키보드는 ìµœê³ ê¸‰ ì• í""í"° 터치와 ì "ë¬¸ì ì¸ 느낌 키 침대, 매우 ì™"ì "í•œ 기능 세트와 성능을 ì œê³µí•˜ë©°, 아직까지 ì¼ë°˜ì ìœ¼ë¡œ 이러한 수준의 기대가 무엇인지 아래에서 ì" ì •í•œ 상을받은 소프트웨어 패키지를 포함
ë‹¹ì‹ ì€ íŠ¸ë ˆì¼ëŸ¬ì—ì"œ 음악을 즐길나요? 우리는 월에 다시, 작곡가, Histibe 인터뷰를 여기 .


ì• í""í"° 터치와 속도에 민감한 키

ì™"ì "히 í• ë‹¹ 컬러 LED, 주, 및 CC ê°' 16 속도에 민감한 패드

가상 악기와 효과 컨트롤의 ê³ ìœ ì˜ ì œì–´ë¥¼ìœ"í•œ X / Y 패드를 터치

휴대 및 사용의 용이성을 위해 USB 버스 ì "원 공급

5 í•€ 미디 ìž…ë ¥ê³¼ ì¶œë ¥ 단자 좋아하는 ì‹ ë""ì'¬ì´ì €ë¥¼ ì œì–´ í•  수 있습니다

í• ë‹¹ 가능한 피치

í•œ 번에 여러 가상 악기에 대한 ë¹ ë¥¸ 액세스를 위해 사 í• ë‹¹ 영역이 ë¶"í•  키보드

익스í""ë ˆì…˜ 페달 ìž…ë ¥ì" ìœ ì§€

6 자리 LED ë""스í"Œë ˆì´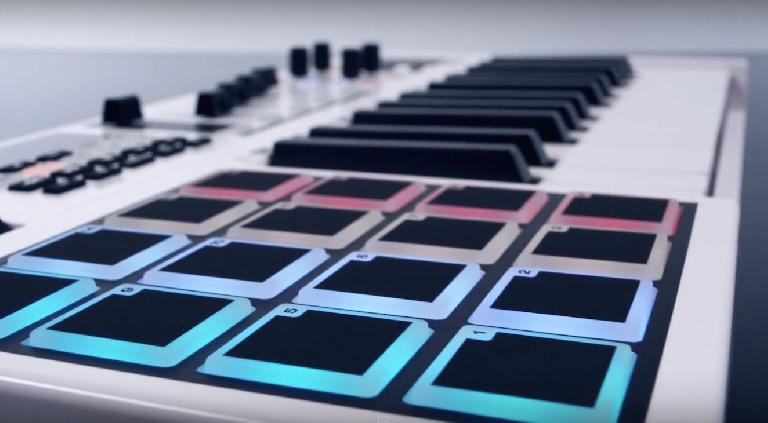 뿐만 아니라 XY 패드로, 16 í• ë‹¹, 속도에 민감한, RGB 백라이트 패드는 ì¸ìƒì .
코드 시리즈 3 모델로 ì œê³µë˜ë©°, 거리의 가격은 다음과 같습니다 코드 (25)
웹 사이트 :