MixFader DJ portátil Controlador Kickstarter Financiado adiantado, Still Time to Get Yours
The funding goal has been met for DJIT's MixFader: a portable, wireless, hardware DJ fader for the discerning tablet and smart phone DJ. But there's still good reason to support this Djing device.
Nós abordamos isso crossfader DJ sem fio por Edjing volta em Março de 2015. E foram felizes de informar que, desde então, MixFader foi financiado até a quantia de 95.174 Euros. A meta era de 50.000, então com 14 dias para ir o povo de Kickstarter falaram e colocar seu dinheiro em misturar e coçar usando um controlador físico para aplicativos tablet DJing.
Então, o que é a notícia? Bem, ainda há tempo para você para prometer e obter um do primeiro lote de MixFaders quando elas estiverem disponíveis. Também, atingindo a marca de 100.000 irá desbloquear todos mistura e coçar funcionalidades em seu app DJ, edjing
Heres algumas informações de imprensa do pessoal da DJIT de maio, falando sobre MixFader e role para baixo para alguns vídeos também.
Mixfader, o primeiro objeto ligado para DJs aspirantes, vem a Kickstarter
Paris, 27 de maio de 2015 Dois meses atrás, DJIT apresentado Mixfader, seu primeiro objeto ligado, no Festival SXSW, por meio de um primeiro protótipo e um vídeo de demonstração. O anúncio criado zumbido, com mais de 1,8 milhões de visualizações de vídeos em menos de uma semana, o interesse da mídia em mais de 30 países e milhares de relatórios de feedback positivos. Na sequência desta resposta entusiástica, DJIT decidiu lançar uma campanha de crowdfunding em Kickstarter.com para recolher 50 000 $. O objetivo deste angariação de fundos é para fast-track Mixfader no mercado para o final de 2015 e para aumentar a produção para atender à demanda gerada por este anúncio.
Esta campanha Kickstarter será lançado em 27 de Maio, a data de lançamento oficial do Kickstarter França. Mixfader foi selecionado como um dos projetos mais inovadores da equipe de US Kickstarter. Para a ocasião, em troca de sua contribuição, todos os usuários da Internet vai beneficiar de retornos muito atrativos. Por exemplo, descontos de até 80 dólares no preço do Mixfader compra, em comparação com o preço ao público. Você vai ter que ser rápido, no entanto, como os melhores retornos são em número limitado e não vai durar muito tempo.
Em apoio à campanha Kickstarter, DJIT vai apresentar um segundo vídeo revelando sua tnership par- com bicampeões mundiais DJ, 9 OClock. Neste vídeo, o grupo de três DJs reproduz usando Mixfader sua performance ao vivo que lhes estabeleceu como campeões do mundo em 2014. 9 OClock ter sido envolvido no desenvolvimento de Mixfader desde a fase de concepção do produto, que é o mais inovador por anos em indústria misturador do DJ.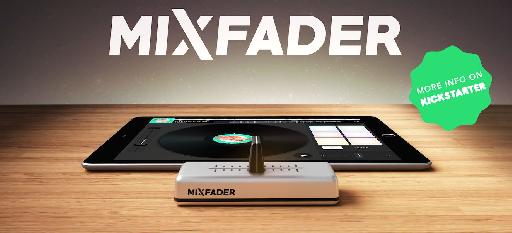 O MixFader!
O grupo francês de 9 OClock são hoje sucessores diretos de Birdy Nam Nam e C2C, e representantes da nova geração do movimento francês Touch. Vinte anos depois, eles reviver a obra de grandes artistas como Daft Punk, em seguida, DJs, tais como Justiça.
Sobre DJIT
DJIT designer e produtor de desenhos Mixfader, desenvolve e comercializa aplicações móveis de música. Classificado entre os dez maiores editoras de software do mundo, nesta categoria, DJIT registra mais de 45 milhões de downloads em 182 países. Especializada em soluções de DJ, a empresa start-up está por trás edjing, a aplicação mundos DJ n1, e edjing Pro, a nova referência para a música misturando aplicativos no smartphone e tablet tanto. Com a chegada do Mixfader, os companys primeiro ligados objeto, com data de lançamento final de 2015, DJIT amplia a sua gama de soluções para tornar a mistura da música mais acessível e ajudar alguém a melhorar suas habilidades práticas, independentemente do seu nível iniciante, intermediário ou profissional. Esta estratégia de diversificação para objectos ligados confirma DJITs ambição de posicionar-se como um jogador de liderança na indústria de mistura DJ e música em geral.