We've taken a look at Cross DJ, as have other publications, and the general consensus is that it's pretty great! Now it's available for iPad, it's free... and includes in-app purchases too.
Croce DJ, recensito come miglior app DJ libero da Mixmag, è ora disponibile su iPad.

Rock tuo partito con un pro DJ app
Croce DJ trasforma il tuo iPad in un sistema completo di DJ. Mescolare brani in perfetta sincronia, aggiungere effetti, loop e molto altro ancora. Basandosi su MixVibes 10 anni di esperienza, abbiamo fatto la nostra applicazione facile da usare per gli amanti della musica, e potente per i DJ più esperti. Raggiungere lo stesso livello di prestazioni con le piattaforme reali!
Set completo di funzionalità 
Scratch, loop, effetti, hot cue: Croce DJ è la prima app per iPad che fornisce funzionalità di DJ professionali in un design intuitivo.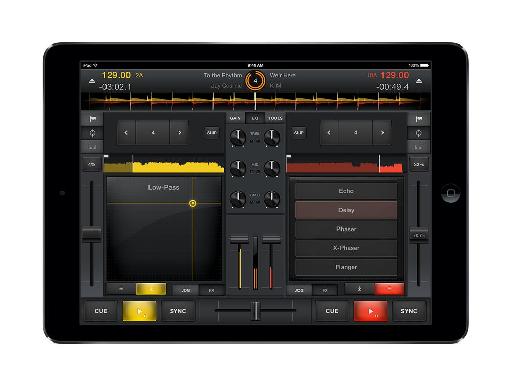 Design standard DJ, per iPad
Il layout di Cross DJ replica l'impostazione DJ standard del settore: manopole rotanti, i pulsanti Cue / Play / Sync, mixer fullfledged. Il layout scheda intelligente e grandi controlli rendono miscelazione sullo schermo iPad un gioco da ragazzi.
Il miglior motore di BPM sul mercato
Basato sullo stesso motore come Croce DJ per Mac, l'applicazione ha lo strumento di sincronizzazione più affidabile
Avviare DJing il modo più semplice
Accedi alla tua libreria di iTunes e le playlist direttamente all'interno dell'applicazione. Croce DJ è il modo migliore per ottenere un tatto per i DJ. Secondo il CEO Eric Guez, Fare un passo fino a mazzi normali sarà facile, grazie al layout standard apps. Meglio di tutto, la sua GRATIS!
Andare livello successivo con gli acquisti inapp
Registrazione
Automix: Lasciate Croce DJ mix automaticamente i tuoi brani

Split mono mixer esterno: prelisten tue tracce controllano EQ
Effetti essenziali: HiPass, passa-basso, Delay

Effetti battere: Transform, Freno, Roll, Chopper

Morph effetti: Phaser, XPhaser, Jet, Crush, Bliss

Sampler: 12 pad, 72 campioni

Miscelazione armonica: Keylock
Controllo MIDI: Controllo Mixvibes uImpastare Control Pro
Value Pack: Sblocca tutte le funzioni

Chi Mixvibes
Mixvibes rende il software professionale per DJ
DJ Croce per iPad corre sulle stesse piattaforme come il suo Mac / PC
Prezzo e disponibilità 
La versione gratuita, il tempo di gioco illimitato. Acquisti inapp.
Download: http://appstore.com/crossdjfreehdmixyourmusic
Video:
More info: http://www.mixvibes.com/products/crossdjipad