This week is a BIG one. Musikmesse is ramping up and AskAudioMag will be there to find out all the news. But, before we could even board the plane, Nektar have announced Logic Pro X integration!
Nektar Inc., Burbank / Kalifornien, 10. März 2014 (ictw) Nektar der Hersteller der DAW-Integration Controller-Keyboards, haben die sofortige Freilassung von einem leistungsfähigen Integration von Apple Logic X mit der erweiterten Workflow von der Panorama-Reihe von Produkten, darunter Panorama P1 angekündigt, Panorama P4 und P6 Panorama.

Apple Logic X-Benutzer können jetzt von einer transparenten musikalische Workflow ähnlich dem, was Panorama liefert bereits für Cubase und Reason profitieren. Konzipiert, dass Musiker und Produzenten, sich auf ihre Musik, ohne ständig für ihre Maus greifen zu konzentrieren, liefert Panorama kreative Freiheit, der bisher nicht zur Verfügung Logic Nutzer.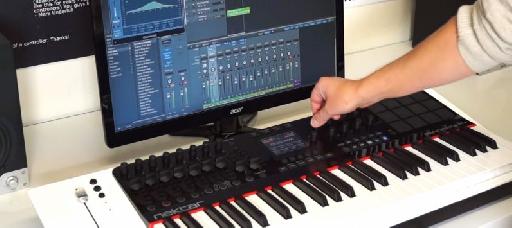 Das Panorama-Logic-Integration umfasst die folgenden Hauptmerkmale:

Multi-Kanal-Misch von Volume, Pan, Mute und Solo in Banken bis zu 8 Kanäle in einer Zeit,

Navigation mit Track-und Bank-Tasten

Motorisierte Fader Plus gewidmet Mute und Solo folgt ausgewählten Kanal (P4
Komplette Transportsteuerung einschließlich Fähigkeit, zu speichern und zum linken und rechten Locator, schalten Sie on / off, Rekord Arm plus mehr.

Kanalzug Steuerung von EQ, Sends, Smart Controls und Insert Plug-Ins

Einfügen und Instrument-Plug-in Steuer

Parameter Feedback und Menüauswahlmöglichkeiten transparent über Panorama-TFT-Display

Die Reihenfolge der Plug-in-Parameter und Smart Controls ist über Logic plist-Dateien anpassbar

Darüber hinaus erhalten Logic Nutzer den Vorteil der umfassenden MIDI-Steuerfunktionen Panorama sowie die einzigartige QWERTY-Makro-Funktion, die für bis zu 8-Shortcut kann Befehle aus auf Knopfdruck von nur einem Panorama-Taste gesendet werden.
Das folgende Video gibt einen schnellen Überblick über die Integration:
Preise und Verfügbarkeit
Panorama-Integration-Dateien sind für registrierte Benutzer Panorama vom Nektar Website sofort.
Weitere Informationen: www.nektartech.com