This week is a BIG one. Musikmesse is ramping up and AskAudioMag will be there to find out all the news. But, before we could even board the plane, Nektar have announced Logic Pro X integration!
Nektar Inc, Burbank / Californie, le 10 Mars 2014 (l ictw) Nektar le fabricant de DAW claviers de contrôleur d'intégration, a annoncé la sortie immédiate d'une intégration puissante d'Apple Logic X avec le flux de travail de pointe de la gamme Panorama de produits, y compris Panorama P1, Panorama P4 et P6 Panorama.

Les utilisateurs d'Apple Logic X peuvent désormais bénéficier d'un flux de production musicale transparent semblable à ce que Panorama offre déjà pour Cubase et Reason. Conçu pour permettre aux musiciens et producteurs de se concentrer sur leur musique sans avoir constamment à atteindre pour leur souris, Panorama offre la liberté de création, auparavant pas disponibles pour les utilisateurs de Logic.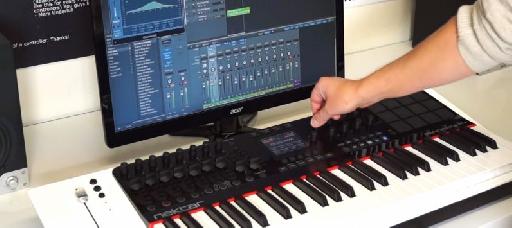 L'intégration Panorama Logic comprend les caractéristiques principales suivantes:

Multi-canal de mélange de volume, pan, mute et solo dans les banques jusqu'à 8 canaux à la fois

Navigation à l'aide Titres et de la Banque boutons

Fader motorisé, plus boutons mute et solo dédiés suit canal sélectionné (P4
Contrôle de transport complet, y compris la capacité à définir et à aller à gauche et à droite localisateurs, cliquez sur basculer on / off, bras record et plus encore.

contrôle de la bande de canal de EQ, envoie, Smart Controls et insérer des plug-ins

Insérez et le contrôle plug-in instrument

rétroaction des paramètres et options de menu de sélection transparentes via l'écran TFT de Panorama

L'ordre du plug-in paramètres et Smart Controls est personnalisable via des fichiers plist logiques

En outre, les utilisateurs de Logic obtenir le bénéfice de génériques complets contrôleur MIDI capacités de Panorama, ainsi que la fonction de macro QWERTY unique qui permet jusqu'à 8 raccourci commandes à être envoyé sur simple pression d'un seul bouton Panorama.
La vidéo ci-dessous donne un aperçu rapide sur l'intégration:
Prix ​​et disponibilité
fichiers d'intégration de Panorama sont disponibles pour les utilisateurs enregistrés Panorama du site Nektar immédiatement.
Informations complémentaires: www.nektartech.com