Do you want 2x2 hybrid multi-host MIDI interface with audio support? iConnectivity's iConnectMIDI2+, supports Mac, PC and iOS. We stumbled upon this find at their booth and saw Eyal Amir there too!
iConnectMIDI2 ist ein 2x2, 10 Multi-Host-Port-MIDI-Interface, iConnectivitys einzigartige Multi-Hosting-und Audio-Pass-Through-Technologie verfügt.

Als Multi-Host-Schnittstelle ermöglicht iConnectMIDI2 für bis zu 2-Computing-Geräte an die gleiche Schnittstelle wie auch der Zugang zu teilen und gemeinsam MIDI-Ressourcen über die 2 Paar MIDI DINs und seine 8 zusätzliche Benutzer konfigurierbare Ports. Dies ermöglicht Workflow, wie die gleichzeitige Übertragung von MIDI-Controller oder Synthesizer, die DAW und einem iOS-Gerät, die Einrichtung von Redundanz in einer Live-MIDI-Umgebung, das Senden von mehreren MIDI-Computing-Geräte miteinander und mehr.
Als Teil seiner Multi-Hosting-Fähigkeiten iConnectMIDI2 bietet auch Audio-Pass-Through. Diese Technologie ermöglicht es zwei Computer (Mac, PC, iOS), um nicht nur MIDI-Daten zu übergeben, sondern auch zu handeln als Audio-Interface zwischen ihnen, nahtlos Überbrückung jedes Rechengerät in jede andere Audio-und MIDI-Umgebungen.
Zusätzlich zu den erweiterten Konnektivität iConnectMIDI2 umfasst iConnectivitys Port Manager-Software für Mac, PC und iOS ermöglicht dem Benutzer die vollständige Kontrolle darüber, wie MIDI geleitet wird, neu zugeordnet und nach und von allen angeschlossenen Geräte gefiltert.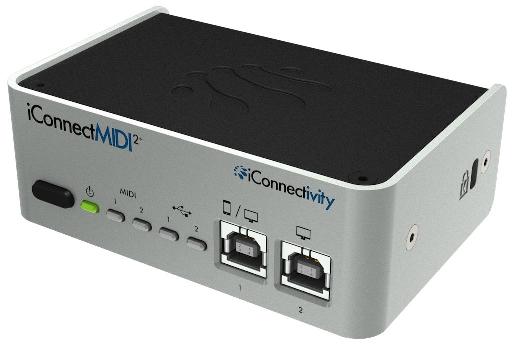 iConnectMIDI2 Eigenschaften
In 2

Die Funktionen iConnectMIDI2 sind zum Patent angemeldet.

Das Release-Datum von iConnectMIDI2 wird mit einem erwarteten UVP von 89,99 $ und Straßenpreis von 69,99 $ aus iConnectivity.com iConnectivity und Reseller weltweit TBD. Für weitere Informationen besuchen Sie bitte www.iConnectivity.com .