German mini synth makers, Ploytec have unleashed their new duophonic USB synthesizer at NAMM, Hall A #6424. It works with iPad or computer. Check out the video for more.
Ploytec GmbH / Deutschland (21. Januar) (ictw) Ploytec, die Deutsch Hersteller von ultra-kleine Stellfläche Fußabdruck Synthesizer sie sagen, die besten Dinge kommen in kleinen Paketen auf der NAMM 2015 Release eine neue Variante dieses Konzepts: Die Ploytec Pi L Squared Leukos Synth. Ganz in Weiß gekleidet, es arbeitet ausschließlich mit einem Computer oder iPad (Camera Connection Kit erforderlich), wenn über USB mit seiner Micro-USB-Anschluss angeschlossen. Es verfügt auch über eine zusätzliche individuelle MIDI-Ausgang, zum Beispiel für den Anschluss des ursprünglichen (schwarz) Ploytec Pi L Squared.

Bei Ploytecs NAMM-Stand in Halle A Stand # 6424 können die Besucher auch einen Blick auf das brandneue iPad Synth Editor und sehen eine Vorschau auf die kommende Firmware V2.1. Die neue Firmware ermöglicht nicht nur höhere Filter Auflösung, MIDI Portamento-Steuerung und Legatospiel, sondern auch (endlich) ermöglicht die seiner zahlreichen MIDI-Controller über die Software-Editor zuordnen. Das bedeutet, Musiker müssen nicht mehr die MIDI-Controller-Nummern entsprechen, statt jetzt einfach eingestellt, um die vorhandenen MIDI-rig Musiker zusammenzubringen.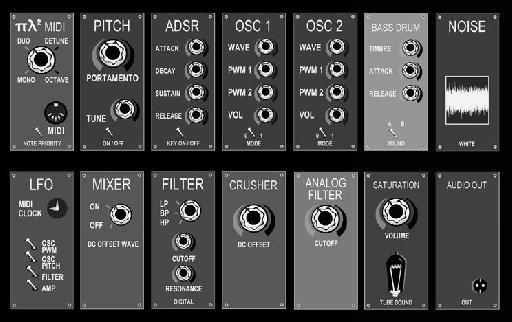 Polytec Pi L Squared USB duophonic Synthesizer.
Weitere Informationen, die Sie auf der Ploytec Synth Produktseite finden Sie: