German mini synth makers, Ploytec have unleashed their new duophonic USB synthesizer at NAMM, Hall A #6424. It works with iPad or computer. Check out the video for more.
Ploytec GmbH / Alemania (21 de enero) (ictw) Ploytec, los fabricantes alemanes de ultra-pequeños sintetizadores huella huella dicen que las mejores cosas vienen en paquetes pequeños en el NAMM 2015 la liberación de una nueva variante de este concepto: el sintetizador Ploytec Pi L Squared Leukos. Vestida de blanco, funciona exclusivamente con un ordenador o iPad (kit de conexión de cámara requerido) cuando se conecta a través de USB a su conector micro-USB. También cuenta con una salida adicional individuo MIDI, por ejemplo para conectar el original (negro) Ploytec Pi L Squared.

En el stand del NAMM Ploytecs en el pabellón A stand # 6424 visitantes también puede echar un vistazo a el nuevo editor de sintetizador iPad marca y ver una vista previa de la próxima V2.1 del firmware. El nuevo firmware permite no sólo para una mayor resolución de filtro, control de portamento MIDI y legato de juego, sino que también (por fin) permite al cartografiar sus numerosos controladores MIDI a través del editor de software. Esto significa que los músicos ya no tienen que coincidir con los números de controlador MIDI, en lugar ahora el son fácilmente instalables para que coincida con los músicos plataforma MIDI existentes.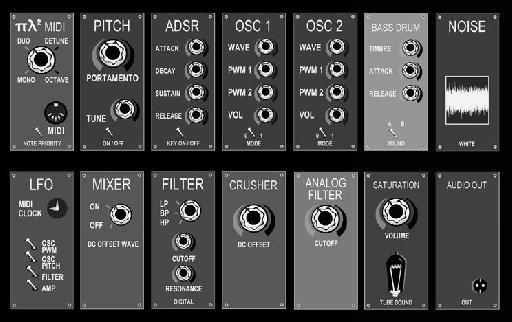 Polytec Pi L Squared USB sintetizador Duophonic.
Más información se puede encontrar en la página del producto synth Ploytec: