German mini synth makers, Ploytec have unleashed their new duophonic USB synthesizer at NAMM, Hall A #6424. It works with iPad or computer. Check out the video for more.
Ploytec GmbH / Allemagne (21 janvier) (ictw) Ploytec, les décideurs allemands de ultra petits synthétiseurs empreinte empreinte Ils disent que les meilleures choses viennent en petits paquets au NAMM 2015 la libération une nouvelle variation de ce concept: le synthé Ploytec Pi L Squared Leukos. Vêtus de blanc, il travaille exclusivement avec un ordinateur ou iPad (kit de connexion appareil photo obligatoire) lorsqu'il est attaché via USB à son connecteur micro-USB. Il dispose également d'une sortie supplémentaire individuelle MIDI, p.ex. pour relier l'original (noir) Ploytec Pi L Squared.

Au stand de NAMM Ploytecs dans le Hall A stand # 6424 visiteurs peut également jeter un oeil à la marque nouvel éditeur de synthé iPad et voir un aperçu de la prochaine firmware V2.1. Le nouveau firmware permet non seulement pour la résolution de filtre supérieur, MIDI contrôle de portamento et legato, il a aussi (enfin) permet à la map ses nombreux contrôleurs MIDI via l'éditeur de logiciels. Cela signifie musiciens ne ont plus à correspondre aux numéros de contrôleur MIDI, place maintenant peut facilement être réglé pour correspondre les musiciens MIDI rig existants.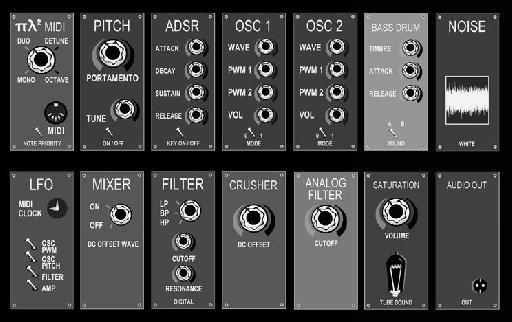 Polytec Pi L Squared USB synthétiseur duophonique.
Informations complémentaires vous pouvez trouver sur la page produit de synthé Ploytec: