German mini synth makers, Ploytec have unleashed their new duophonic USB synthesizer at NAMM, Hall A #6424. It works with iPad or computer. Check out the video for more.
Ploytec GmbH / Germania (21 gennaio) (ictw) Ploytec, i produttori tedeschi di piccoli sintetizzatori ultra impronta impronta dicono le cose migliori vengono in piccoli pacchetti al NAMM 2015 il rilascio di una nuova variante di questo concetto: il synth Ploytec Pi L Squared Leukos. Vestito di bianco, funziona esclusivamente con un computer o un iPad (Camera Connection Kit richiesto) se collegato via USB al connettore micro-USB. Dispone inoltre di una ulteriore uscita MIDI individuale, ad esempio per collegare l'originale (nero) Ploytec Pi L Squared.

A Ploytecs stand NAMM nel padiglione A stand # 6424 i visitatori possono anche dare un'occhiata al nuovo editor synth iPad marchio e vedere in anteprima il firmware V2.1 imminente. Il nuovo firmware consente non solo per la risoluzione del filtro più alto, il controllo portamento MIDI e il legato di gioco, ma anche (finalmente) consente la mappa per i suoi numerosi controller MIDI tramite l'editor di software. Questo significa che i musicisti non hanno più per abbinare i numeri di controller MIDI, invece ora il può essere facilmente impostata per soddisfare i musicisti MIDI rig esistenti.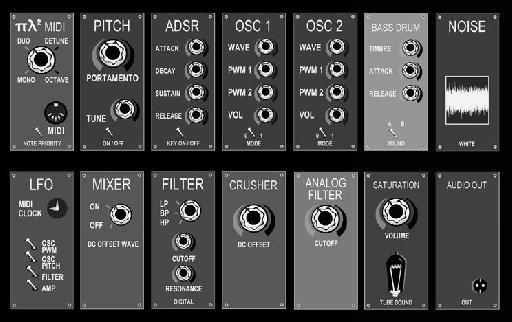 Polytec Pi L Squared USB sintetizzatore Duophonic.
Ulteriori informazioni si possono trovare sulla pagina Ploytec prodotto synth: