German mini synth makers, Ploytec have unleashed their new duophonic USB synthesizer at NAMM, Hall A #6424. It works with iPad or computer. Check out the video for more.
Ploytec GmbH / Alemanha (21 de janeiro) (ictw) Ploytec, os fabricantes alemães de ultra pequeno sintetizadores pegada pegada dizem que as melhores coisas vêm em pacotes pequenos na NAMM 2015 lançamento de uma nova variação deste conceito: o synth Ploytec Pi L Squared Leukos. Vestido de branco, é exclusivamente trabalha com um computador ou iPad (kit de conexão da câmera obrigatório) quando conectado via USB ao seu conector micro-USB. Ele também possui uma saída adicional indivíduo MIDI, por exemplo, para ligar o original (preta) Ploytec Pi L Squared.

No estande Ploytecs NAMM no Salão Um estande # 6424 visitantes também pode dar uma olhada no novo editor synth iPad e ver uma prévia do próximo V2.1 firmware. O novo firmware permite não só para a resolução de filtro maior, MIDI controle portamento e legato de jogo, ele também (finalmente) permite a mapear seus inúmeros controladores MIDI via o editor de software. Isso significa que os músicos não precisam corresponder aos números de controlador MIDI, em vez agora pode ser facilmente configurado para coincidir com os músicos MIDI rig existentes.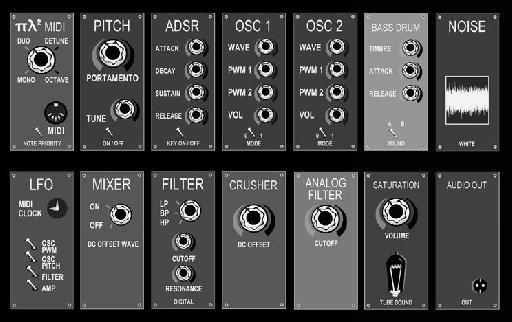 Polytec Pi L Squared USB sintetizador Duophonic.
Maiores informações você encontra na página do produto synth Ploytec: