Nektar Annoncer la disponibilité de l'impact iX 49 et 61 iX, contrôleurs avec un Twist
Nektar's gorgeous new Impact iX 49 and iX 61 are powerful keyboards with DAW control and comfortable iPad connectivity, plus they include Presonus Studio One Artist and are attractively priced.
Nektar Inc. Burbank / Californie le 4 novembre 2014 (ictw) Nektar annoncer la disponibilité immédiate des claviers de commande impact iX49 et iX61 . Nektar produits sont synonyme d'intégration DAW et le iX49 impact et l'impact iX61 ne font pas exception. Leur apparence faussement minimaliste cache des fonctionnalités puissantes même pas trouvé sur les contrôleurs plus complets.

Les claviers impact iX offrent des fonctionnalités du contrôleur de clavier USB standard ainsi que Nektar intégration DAW avec pas moins de 11 stations de travail audionumériques. Les claviers de dimension disposent pitch bend, molette de modulation et d'une prise de commande au pied pour connecter une pédale de sustain.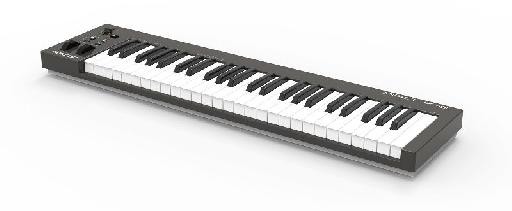 Être classe compatible USB des claviers peut être branché facilement dans l'ordinateur ou iPad, aucun pilote requis. Cela permet de commencer à composer en utilisant le logiciel MIDI existant ou la inclus Presonus Studio One Artist DAW instantanément.
L'intégration unique Nektar DAW
L'intégration DAW Nektar rend l'installation facile et simple. La liste croissante des stations de travail audionumériques prises en charge par Nektar sont: Bitwig studio, Cubase, Digital Performer, FL Studio, GarageBand, Logic, Nuendo, Reaper, Reason, Sonar et Studio One.
iX Contrôleurs Basics
À première vue, le iX Impact est un contrôleur de clavier USB standard avec soit un 49 ou 61 notes clavier pleine taille, pitch bend, molette de modulation et interrupteur au pied. Boutons d'octave sont disponibles à tout moment pour décaler le clavier vers le haut ou vers le bas -3/4 octaves avec indicateurs LED multicolores indiquant l'état exact. Boutons de transposition permettent de décaler le clavier / - 12 demi-tons et un fader assignable permet de contrôler n'importe quel paramètre MIDI. Mais il ya plus à la iX impact que rencontre l'oeil.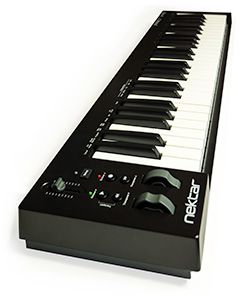 Des charges de fonctionnalités sur le bouton droit
Le célèbre intégration Nektar DAW est conçu avec soin pour fournir toujours la meilleure expérience avec le matériel Nektar. Et avoir à toucher à la souris en permanence ne permet pas la créativité, même si l'ensemble des besoins de base sont. Nektar donc ajouté quelques-unes des caractéristiques les plus importantes à la iX impact tels que transposition attribution du bouton de piste ou de changement de Patch, contrôle du volume pour la piste actuellement sélectionnée et un mode de transport particulier pour Octave et boutons qui permettent de contrôler Play, Stop, Record Transposer et Rewind. Impact iX tiques toutes les cases à droite.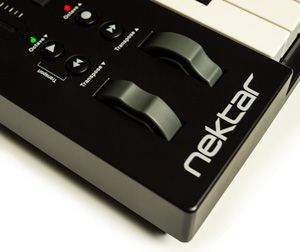 Gros plan des contrôles sur le Nektar impact iX 61.
Transposer est extrêmement utile, mais des situations différentes exigent des fonctionnalités différentes. Il est donc très heureux d'être en mesure de changer le canal MIDI ou envoyer des messages MIDI programme trop. Les deux boutons de transposition sont rapidement configurés pour l'une de ces fonctions avec les paramètres enregistrés sur le vélo électrique. Mieux encore, en appuyant sur une combinaison de touches change la Octave et Transpose touches fonction pour envoyer des fonctions de transport MMC pour activer démarrage, d'arrêt et d'enregistrer directement à partir du clavier.
* Fonctionnalité actuellement mis en œuvre pour Bitwig studio, Cubase,
CONNECTEURS
Claviers impact iX sont de classe compatible USB et ne nécessitent donc pas un pilote pour fonctionner. Donc, l'installation et la connexion est aussi simple que de brancher le clavier à un port USB de votre ordinateur.
Le clavier impact iX aussi fonctionne instantanément avec l'aide des iPads iPads kit de connexion appareil photo USB en option. A 1/4 "jack d'entrée permet d'ajouter une pédale de commande au pied pour soutenir ou l'envoi de messages MIDI.
DAW inclus - Studio One Artist
Studio One Artist est une plate-forme d'enregistrement et de production puissant qui est incroyablement facile à apprendre, il offre nombre illimité de pistes et de plug-ins et des fonctionnalités ne trouve pas normalement dans DAW entrée de gamme.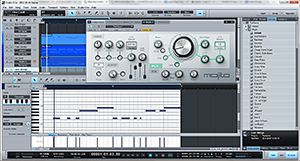 PreSonus Studio One Artist est livré avec ces claviers de commande!
Puissants outils d'édition sont accessibles sans avoir à parcourir des menus. Chargement et enregistrement des clips audio, des fichiers MIDI, effets, et les VIs qui se passe tout simplement par glisser-déposer. Cela vaut aussi pour Instrument de chargement, les effets des plug-ins ou des boucles de batterie.
Pour le mélange vers le bas de pistes de plus de 20 Native Effects de haute qualité sont disponibles. Le meilleur de tous, Studio One Artist est inclus avec le clavier USB impact iX!
CARACTÉRISTIQUES
49/61 vélocité de la note sensible de clavier pleine taille

Molettes de pitch et de modulation

Boutons d'octave

Boutons Transposer

Le mode de transport passe Octaves et Boutons de transposition d'envoyer des messages MIDI MMC (compatible avec Pro Tools)

prise d'entrée pour pédale

Alimenté par USB, Class Compliant (pas besoin de driver)

Se connecte à l'iPad (via kit d'adaptateur USB, non fourni)

Comprend Presonus Studio One Artist

Intégration Nektar DAW
Navigation des pistes de DAW

Patchs changement d'instruments

volume de la piste de commande

commande de transport (Play / Stop / Enregistrement / Retour / Avance)

Nektar intégration DAW pour 11 stations de travail audionumériques dont Bitwig studio, Cubase, Digital Performer, FL Studio, GarageBand, Logic, Nuendo, Reaper, Reason, Sonar et Studio One.

Prix ​​et disponibilité:
iX49 et iX 61 sont disponibles chez les détaillants de musique du monde large pour:
iX49: USD 109.99 / Euro 99,99 / GBP79.99 avec un prix de vente attendu de USD 99,99 / Euro89.99 / GBP 69,99
iX 61 USD 129,99 / 109,99 Euro / GBP89.99 avec un prix de vente attendu de 119,99 USD / Euro 99,99 / 79,99 GBP
Web: